General
What are its advantages as groupware, business chat, and web conferencing?
The following are features and advantages
Business Chat To,Web Conference, ,file sharing, ,Schedule Management, ,Facility Reservations, ,Completely Automated Public Turing test to tell Computers and Humans Apart, ,tag and others in an easy-to-use, integrated groupware,Can reduce the cost of required apps.
Basic functions are available free of charge.Even with the paid version, the price is overwhelmingly low compared to similar services offered by other companies.
The desktop version for LAN automatically recognizes internal users just by installing it.
(You can immediately use business chat and video calls without registering an account or making difficult settings.)
Web conferencing uses video pressure VP9 (the highest compression ratio in the browser)
On-premise (LAN-only) or cloud and mobile, depending on each team's policy and situationhybrid model
Teams that handle large file transfers and highly confidential information can use LAN-only, while teams that use the cloud and Montvair for sales, telework, and other external use can use the cloud and Montvair.
Supports 4 platforms (Windows, Mac, Android, iOS) and 3 languages (Japanese, English, Chinese)
Do I need an Internet connection?
Not required if using on-premises. When you start Chat&Messenger, it automatically recognizes internal users and allows you to chat and video call without any complicated settings.
still,Chat&Messenger Cloud ServiceInternet connection is required to use the
Which should I use, the desktop version for LAN, on-premise CAMServer, or the cloud?
Can manage data in-house.on-premise versionand we manage the operation of the servercloud version and the functions available will be generally the same.
On-premise
If you often handle sensitive data or have limited internal Internet access and cannot freely use cloud services, we offer the following two solutions.
Desktop for LAN.......P2P allows you to easily build an internal communication system without the need for a server. Free version with limited functions and all functions availablepremium version There is a
On-premise CAMServer CAMServer is a web-based service that allows you to chat, conduct web conferences, share documents, and manage your schedule easily from your browser. All data can be managed on the on-premise CAMServer. This is a paid version only.
Cloud
If there are no restrictions on internal internet access and data can be stored in the cloud,cloud version We recommend that you choose the following option. We will take care of the server operation, so it is the easiest way to build an internal communication system. We offer a free version with limited functionality.
What is the difference between the LAN (P2P) model and the cloud model of CAMServer?
How to install CAMServer → Difference between LAN (P2P) model and cloud model for more information.
Can the system be linked to remote locations or smartphones?
Chat&Messenger cloud service (free plans available)This can be easily achieved by using .
Also, the base VPN/IP-VPN If the connection is made with On-premise CAMServer This can also be achieved by using
How is data encrypted?
Data in the Cloud
Communication is encrypted with HTTPS, attachment database,All data is strongly encrypted using a different encryption key for each user company.For more information. Cloud Mobile for more information.
On-premise data
Message body and file transfer in messenger/chat for LAN
The message body is encrypted using public key cryptography. The key for decryption must be exchanged before sending and receiving. File transfers are also optionally encrypted with the same method for the file itself.
Cryptographic strength is public key (RSA 1024bit) + common key (Blowfish 128bit)
Encryption of file transfers is a premium feature, and if the file is transferred with "Encrypt All" in the file transfer dialog, the file itself will be encrypted using the method described above. For more information. Encrypted file transfer function for more information.
CAMServer data (LAN model)
File attachment is specified as an option.
Message log data・・・It is encrypted when transferred to CAMServer, but stored messages are not encrypted.

Currently, PCs managed by CAMServer are password controlled.
Server management of message logs is also necessary for compliance purposes, so a system that can be viewed when necessary is also necessary.
CAMServer data (cloud model)
Same method as "data in the cloud."
Web Conference Communication
Web conferencing conforms to the WebRTC implementation, with the data stream encrypted using DTLS (Datagram Transport Layer Security) and the media stream encrypted using SRTP (Secure Real-time Transport Protocol). The data stream is encrypted with DTLS (Datagram Transport Layer Security).
Desktop for LAN
What is the range of automatic user recognition? I want to easily link with another location.
Automatic recognition range
Within a LAN, Chat&Messenger can only recognize users within the same network segment within the reach of broadcast packets. Depending on the network design, the same network segment typically covers the same department or floor.
Also, if you have a mix of WI-FI and wired LAN, automatic recognition will not be possible as the networks may be different.
I want to extend the range of automatic recognition.
The easiest way is to use Chat&Messenger Cloud (free plans available) The first step is to use an on-premise system. If you choose on-premise On-premise CAMServer You can use the following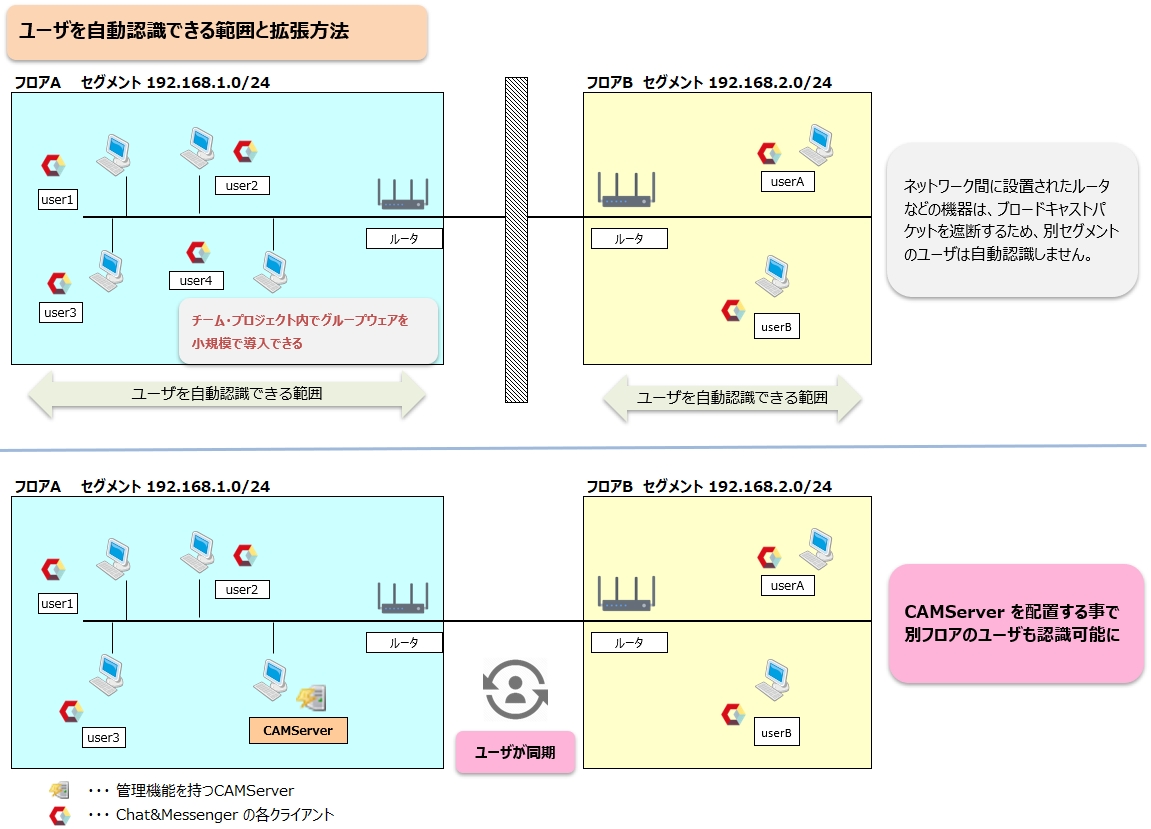 Going offline, unable to receive messages or make video calls
The following is a list of possible causes, in order of likelihood, and how to resolve them.
Security software or relaying router is blocking communication
In most cases, this is because your security software (or relay router) is blocking Chat&Messenger's UDP and TCP communications. ports) used by Chat&Messenger are not blocked.
Blocked by Windows Firewall
If it is blocked by Windows Firewall, communication may become unstable and display problems may occur, such as certain users going offline.
The problem can be resolved by running [Help] → [Check Windows Firewall] as shown below.
| | |
| --- | --- |
| | When prompted for User Account Control, press "Yes". Users without administrator privileges will also need the administrator's password. |
Only one user has Broadcast set up, WI-FI and wired LAN are on different networks.
Broadcast Settings If only one user is specified, or
In an environment where WI-FI and wired LAN are mixed, if the networks are different, users may not be recognized correctly and may go offline.
in this case,Chat&Messenger Cloud (free plans available)Or, if you choose on-premise On-premise CAMServer The solution is to use the
Windows Firewall asks for public permission
Windows Firewall may ask for public permission even though it is a LAN network. In the first place, even though it is a WI-FI network within the LAN, the "network location (profile)" may be checked as initially displayed as public, which is the cause.
And in this case, Windows Firewall may ask for permission for public communication. *Windows bug? will be resolved in the future.
In this case, it can be resolved by explicitly making it private, but
Learn more on Windows 10 How to change "Network Location (Profile)" from "Public" to "Private See
About the port to be used
Chat&Messenger uses the following ports
Message sending/receiving for LAN: UDP/TCP 2425 port
Voice/video calls for LAN: UDP 22224 to 22229 ports
CAMServer uses the following ports
TCP 8080, TCP 443, UDP 3478, UDP 10000
If there are problems such as not being able to connect to different network segments, check the packet filter settings of the routers and L3 switches between each network to see if the above ports are passable.
What is the key that identifies the user?
LAN model: logon name + host name
Cloud model : Hash value based on UUID (Universally Unique Identifier)
Web conferencing/video calling
Maximum number of simultaneous connections for web conferencing and video calls for LAN
Web conference: 20 people with camera, 30 people with audio only *Up to 100 people if only a few presenters have camera and document sharing and the rest have muted camera and audio.
Video call for LAN: 5 people with camera, about 20 people with audio only
The above results are based on our own verification in a good communication environment (client side speed of 300 Mbps or higher).
Client-side speed can be checked from the control panel as follows

The maximum number or how many sets of meetings are possible depends on the communication environment within the organization.
Amount of network traffic for web conferencing and video calls
Web conferencing * Amount of traffic on servers
The average send/receive rate over 40 seconds is measured on the video server with the iftop command.
5 user
10 user
Audio only
0.2 MByte/s
0.7 MByte/s
Audio and Camera
4.0 MByte/s
8.0 MByte/s
1 user document sharing
Other audio/camera off
0.07 MByte/s
0.3 MByte/s
Each organization should establish its own policy on how many web conferencing sessions can be used simultaneously, taking into consideration internal router limitations within the organization.
For example, in the case of 10-user voice and camera, if the server side generates 8.0 MByte/s of traffic and the center router has a 100 MByte/s limit, the maximum number of simultaneous conferences should be kept below 10.
If 10 people participate in a web conference and one person shares materials, the average communication amount per PC is about 0.3Mbps.

By default, the camera will be limited to low traffic when 5 users or 10 users participate. Measurements are performed with the following standard settings for 5 or more users (180p), 10 or more users (90p), and 10FPS.


| | |
| --- | --- |
| | *If you set the minimum resolution to 90p, you will achieve the lowest traffic in the industry. |
Video call for LAN * Amount of traffic on client side
Network usage for video and voice calls is as follows. How many users can use the system at the same time depends on your network environment, so please try it out and determine the policy within your company.
*Measured using Windows Task Manager
*As the resolution and number of users increase, the FPS and image quality will be automatically lowered, so the amount of network traffic will not increase by multiplication.
*For voice calls only, approximately 0.2 Mbps for 2 users
Do I need an Internet connection for video calls and web conferencing?
LAN-only video calls require no Internet connection at all, while browser-based web conferencing is,By using CAMServer EnterpriseThe service is available in an on-premise environment limited to within the intranet.
Web conferencing with the CAMServer Standard plan goes through the chat-messenger.com server during connection negotiation or when a P2P connection is not available.
Can I build web conferencing on-premise?
This can be achieved by using CAMServer Enterprise.Details
Cloud Mobile
Mobile Support Terminal
Supports:
Android ・・・8 or higher
iOS ・・・iOS 13 or higher
How can I do mobile collaboration on-premise?
Is possible. Even in a closed network or in-house WiFi environment On-premise CAMServer Enterprise.
Can I use an on-premise CAMServer to work with mobile devices outside the company?
This is not possible with on-premises CAMServer.
In order to link with mobile terminals outside the company, it is necessary to expose CAMServer to a server assigned a public IP address. This requires extremely high security and operational skills.
Therefore,Chat&Messenger Cloud to use.
Smartphone applications without Internet access cannot receive Push notifications.
The smartphone app will go to the background and close after a while. There is no guarantee that it will always be running. Therefore, the mobile version of Chat&Messenger uses OS standard push notifications to notify users of message reception.
Push notifications on smartphones are delivered by Google for Android and Apple servers for iPhone, so if you cannot connect to the Internet, you will not be able to receive the notifications.
Please understand that due to app updates, Google and Apple servers will have difficulty operating unless internet connection restrictions are lifted.
Is the mobile version IPMessenger compatible?
Unfortunately, the mobile version is IP Messenger is not compatible with
This is because Wi-Fi routers these days are often set to not pass broadcast packets by default due to the increasing number of mobile devices and the number of connected devices.
Others (desktop version for LAN)
Is there a free trial of Business Premium?
When you download it for free from the site, the premium features will be active for a while. For video calls, you can try video calls for a few minutes.
Two identical names in the user list when the PC is replaced.
【question】
When I replaced Chat&Messenger by replacing the PC, the same name was displayed twice in the user list of each client.
One is online and the other is offline.
【Answer】
For the LAN model, the key items for Chat&Messenger are the following items on the client PC.
Logon name + host name
Therefore, if you change the PC, the host name will change and the same user name will be displayed twice.
Users who go offline will be automatically deleted after 7 days by default, but if you select "Application Preferences" ⇒ "Send/Receive" ⇒ "Offline User Management"Number of days to hide offline usersYou can change it with
If I change my PC, I would like to take over my past data.
In most cases, you can use it by simply copying the folder where Chat&Messenger is installed to another PC.
However, if you want to carry over the group chat and calendar (meeting room reservations), you will need to keep the OS login name and PC host name the same on the new PC.
If this is not possible, please note that you will need to be re-invited to the group chat, and the conference room reservation status will remain registered as the user of the old PC.
Furthermore, if you use CAMServer's cloud model, your data will be saved on CAMServer, making it flexible for things like moving.
I don't know how to show hidden users again.
Please execute "Settings" menu ⇒ "Sort Users".
At the bottom, the priority is displayed as "Hidden", so please change it. After that, a refresh is required.
Update to the latest version even if you cannot connect to the Internet with the 32-bit version
If you have an Internet connection, Chat&Messenger will automatically update to the latest version. If your device does not have an Internet connection and you are using the 32-bit version, you will need to follow the steps below to update to the latest version.
Download and install the latest version of Chat&Messenger from the top page of the site
of the destination folder. ChatAndMessenger\sys\lib\ecam Copy the files to the same location on the 32-bit version
Restarting the 32-bit version ChatAndMessenger will bring the 32-bit version up to the latest version.
About Silent Installation
Silent installation is a method that does not require any operations or input when installing software. Use this when you want to install the same software with the same settings on many computers.
If you want to perform a silent installation using Chat&Messenger, issue the following command to the downloaded setup exe for the desktop version or web application version.
*taskkill will terminate the process of the app that starts after installation.
desktop version

start /wait cam_setup[version number].exe /verysilent /sp-
start /wait taskkill /f /im cam.exe


Web App Version

start /wait camapp_setup.exe
start /wait taskkill /f /im camapp.exe

If a single PC is used by multiple users, is it possible to create an environment for each user?
If installed normally, this will not work, but each logged-in user will have to
I think you can deal with this by installing Chat & Messenger on your computer.
example),
C:\Users\user1\ChatAndMessenger
C:\Users\user2\ChatAndMessenger
*Setting files are saved below for each user.
C:\Users\user1\ChatAndMessenger\config
C:\Users\user2\ChatAndMessenger\config
*Log files are saved below for each user.
C:\Users\user1\ChatAndMessenger\logs
C:\Users\user2\ChatAndMessenger\logs
Also, even if you register it as a startup, Chat & Messenger will start for the logged in user.
Enables automatic version upgrades even in environments with proxy servers that require authentication
After stopping Chat&MessengerThe version can be automatically upgraded by adding the following description to the cam.ini file.
cam.ini file located at
ChatAndMessenger/cam.ini
I use multiple languages, but it resets
You can solve it by the following steps.
Install the latest version. https://chat-messenger.com/
Stop Chat&Messenger after the upgrade is completed.
Delete folder [ChatAndMessenge\configItemlangs].
Start Chat&Messenger.