By using the Chat&Messenger cloud service, users can be automatically recognized by email domain and seamlessly link between mobile devices, offices, and companies.
Also,Telework recommended in the reform of work styles The important thing in the teleworking environment is to create an environment that improves productivity for all staff members, regardless of their location or working style. Chat&Messenger Cloud Service" can realize such telework.
| | | | |
| --- | --- | --- | --- |
| Business Chat | Web Conference | Online Negotiations | calender (machine for flattening things) |
| document management | attendance management | Mobile Collaboration | security |
The cloud and mobile services can be used for large file transfers or when handling confidential information on-premise (LAN-only) as in the past, and for use outside the office, such as at a sales location or teleworking.
Cloud version allows video calls between desktop and mobile devices
Based on the concept of allowing you to easily join later anytime, anywhere, we support one-on-one video calls as well as group video calls with multiple people.
Mobile supports switching between in-camera and out-camera. For example, when making a video call from a smartphone, you can use the out-camera to transmit images of a construction site, warehouse, or nursing care facility to the site, and make calls while showing external images. You can also.
System design with emphasis on security for corporate customers
Chat&Messenger cloud service is designed with security in mind.
Many similar services are called Multi-tenant model Therefore, data from different companies are stored in the same DB in a mixed state. Chat&Messenger Cloud, on the other hand,All plans have application and DB isolated from other companies on a company-by-company basis. Single-tenant model The service will be provided in the following
This allows for strong encryption of DB/uploaded files with individual encryption keys specified by the company.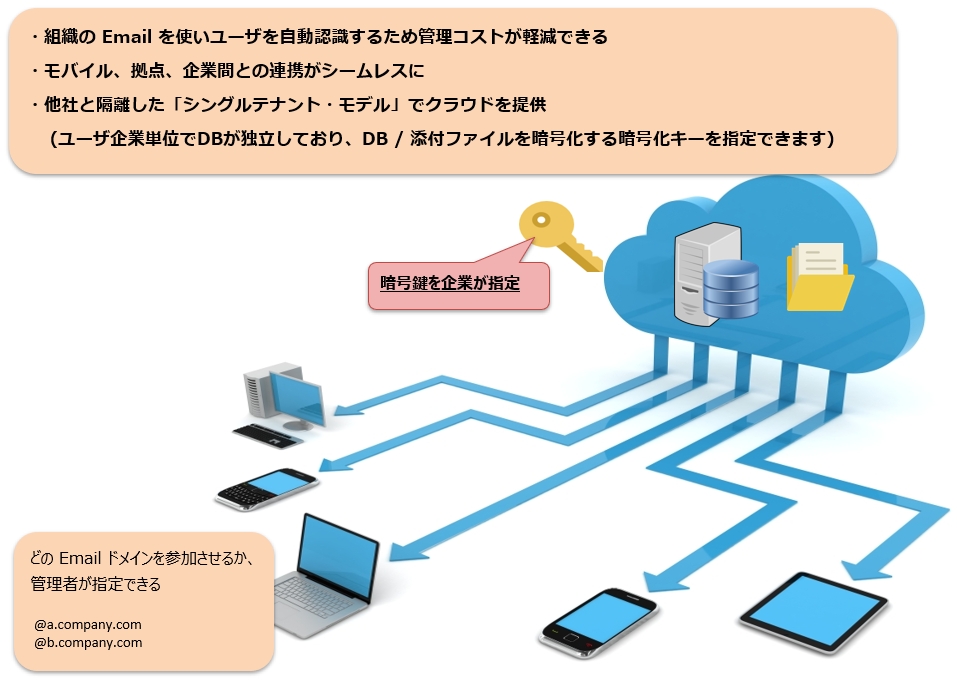 It is characterized by the following points
Free email is not availableThe IT department uses the service with the agreement using the organization's email.

Email authentication is performed when an account is created with the above email.

Strongly encrypt DB/attachments individually with user-specified encryption keys

Public key cryptography with AES 256-bit encryption

Build independent server applications for each organizational unit
Encrypted communication over https
Subdomain can be assigned to chat-messenger.com

Example) https://***.chat-messenger.com/

Some secure information, such as passwords, is stored securely by stretching it an enormous number of times with irreversible encryption, in addition to individual DB encryption.

Irreversible encryption: An encryption method in which the original text cannot be recovered.

In addition to the DB's encryption function, emails and names that need to be displayed in the application are stored with multiple encryption using a dedicated encryption key for each organization.
User Management Functions

Administrators can delete users who have left the company.

IP address restrictions on access terminals
How do I use it in an on-premise environment?
On-premise CAMServer Mobile collaboration is possible in an in-house on-premise environment by introducing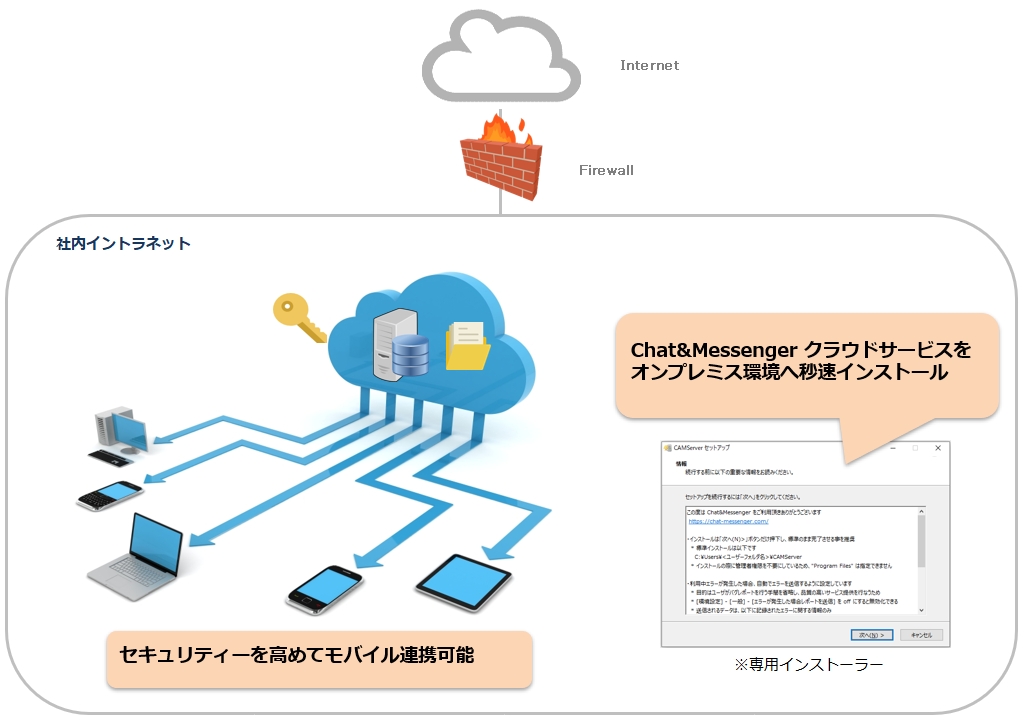 Consider implementing Chat&Messenger Cloud in the following work environments
I want Chat&Messenger to support remote offices and teleworkers.
Mobile (Android / iOS) I want to link
I want to have videoconferencing between locations while reducing the cost of VPN connections.
There is no one who can maintain the CAMServer, so we would like to outsource the operation to us.
Business chat, file sharing, and video conferencing among subsidiaries, group companies, and other companies
License application (free plan available)
Chat&Messenger Cloud also offers a free plan. Please apply below.
Apply for Chat&Messenger Cloud