introduction
In an increasingly digital business environment, efficient and secure communication is key to increasing productivity and competitiveness. On-premises business chat systems play an important role for companies that value enhanced data security and privacy.
The main advantages of on-premise systems are:Operating in our own data centers reduces the risk of information leaks and allows us to adapt to strict regulatory standards and unique security requirements.It also offers significant benefits in terms of customization and cost efficiency.
This guide provides a detailed explanation of the process from selecting, implementing, and operating on-premises business chat, providing essential insight and practical advice when considering implementation.
Basics of on-premises business chat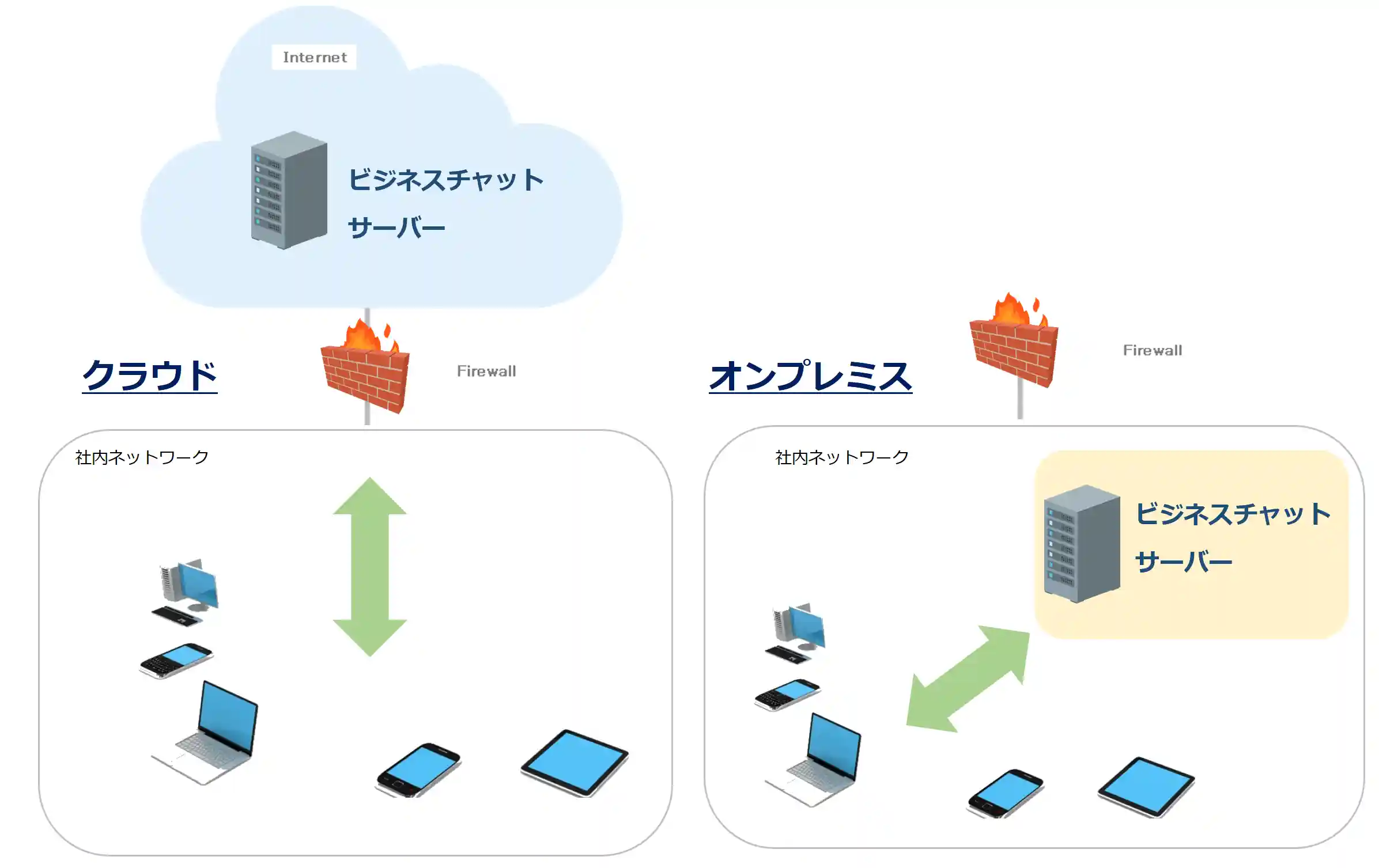 What is business chat?
Business Chat is a chat tool designed to streamline communication in the workplace.
The main benefits include faster communication than traditional email or phone calls, easier information sharing within teams, reduced meeting time, and efficient file transfer. . Please refer to the article below for details.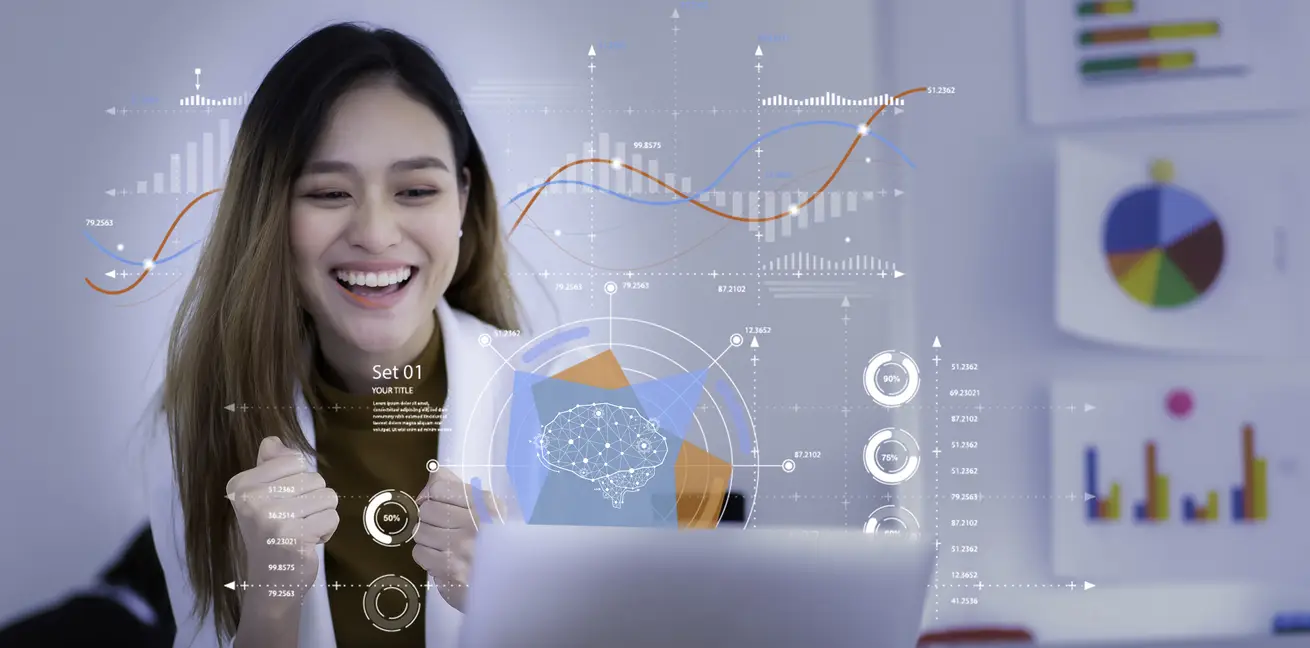 Difference between on-premises and cloud
On-premises is a system in which a company operates its own servers and software.In this method, the information system is kept within the company network and access from outside is restricted. This allows businesses to maintain complete control and security over their systems.
in contrast,Cloud services refer to the form in which necessary IT services are used via the Internet.. Businesses do not own the hardware or software; they use resources provided by service providers. This method provides flexibility and cost savings, reducing the investment and maintenance burden on physical infrastructure.
On-premises offers security and customization, while cloud offers scalability and ease of operation. It is important to understand these differences so that businesses can make the best choice based on their needs.
Advantages of On-Premise
Because on-premises systems are built in-house, the system is flexible and easy to customize, and it is easy to integrate with your own systems. Additionally, since the system operates within the company's own network, it has the advantage of being highly secure.
Recent Business Chat Demand for cloud-type products is growing, but there are issues at the staff level where even confidential and personal information that is not disclosed to third parties is easily uploaded to the cloud and shared internally and externally. . There are many needs to operate business chat on-premises in a company-only environment in consideration of personal information leaks, insider trading issues, compliance, industrial espionage, and unexpected risks.
Disadvantages of on-premise
The disadvantages of on-premise are generally the following
Initial implementation cost is high
IT skills (infrastructure, web server, DB server, etc.) required
When teleworking VPN Requires dedicated infrastructure such as
Need to respond to failures in-house.
Recently, the Ministry of Internal Affairs and Communications has been recommending business chat, which is suitable for telework, as part of work style reform. In addition, the convenience of using mobile devices has improved, and the need for cloud services is increasing, and there are very few business chat products that are compatible with telework and mobile devices.
How to choose an on-premises business chat product
In particular, when choosing an on-premises business chat system, it is important to consider the following points:
1. Evaluation criteria for system selection
When choosing an on-premises business chat product, comprehensively evaluate its functionality, smartphone compatibility, performance, security, cost, support system, and ease of use of the user interface. Additionally, business chat products often come equipped with web conferencing and task management, so it is important to choose the most appropriate system according to your company's specific needs and goals.
2. Access control and audit logs
From a security perspective, check whether user access control functions and audit log recording are possible. Audit logs allow you to track system access and operation records, allowing you to take immediate action in the event of suspicious activity or security violations. This reduces security risks, so make sure your business chat product has these features.
3. Active Directory linkage
Check whether OS password authentication and single sign-on (SSO) are possible by linking with Active Directory. This simplifies user management and increases usability while increasing security. Please investigate in advance to what level Active Directory integration is possible with the business chat product you are considering.
4. Data backup method
To maintain system stability, it is essential to have regular data backups in place. Make sure your business chat product has a good backup strategy built in to ensure quick data recovery in the event of a disaster or system failure.
5. Compatible with redundancy and load balancing
To increase system reliability, consider whether a redundant server configuration is possible. This ensures that even if one server fails, another server can act as a replacement and prevent service interruption. Redundant configuration is required when the number of users increases to several thousand, so please check whether the business chat product you are considering can support this.
6. Customization and extensions
Another important factor is whether the system can be customized and expanded to meet a company's specific needs. It is desirable to choose a system that can flexibly respond to future business growth and changes.
When selecting an on-premises business chat product, it's important to consider these factors holistically and choose the product that best fits your company's current and future needs. Choosing the right system can make your business more efficient and more secure.
Recommended product introduction for on-premises business chat

Chat&Messenger teeth,Business Chat , ,Web Conference, ,file sharing, ,Schedule, ,Conference Room ReservationsGroupware that integrates peripheral tools such asCompatible with both on-premises and cloud.
Because all data can be managed within the organization, it is possible to use environments with Internet connection regulations (closed networks) and highly confidential data (such as government-related, major companies, banks, IT, universities, hospitals, prefectural offices, city halls, public institutions, etc.) It has been implemented in many organizations that handle data that cannot be stored on the cloud.
Even on-premises, Chat&Messenger is easy to install, optimized to handle over 5000 users, and requires no IT skills.In terms of price, it is also overwhelmingly cheaper than other companies' clouds, and the general disadvantages of on-premises do not apply.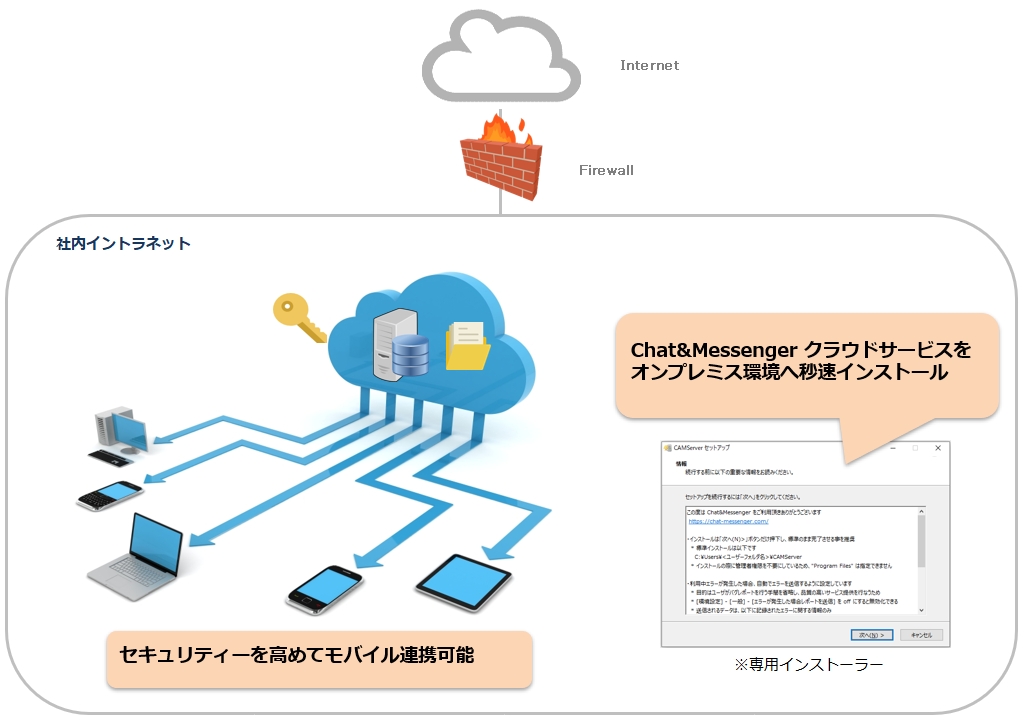 In addition, it is characterized by the following functions, which are highly difficult and challenging when building on-premises systems.
Audit messages and file attachments
SSL certificate compatible
Compatible with redundancy and load balancing
Active Directory Linkage
Linkage with on-premises email server
Differential high-speed backup
Access control and audit log support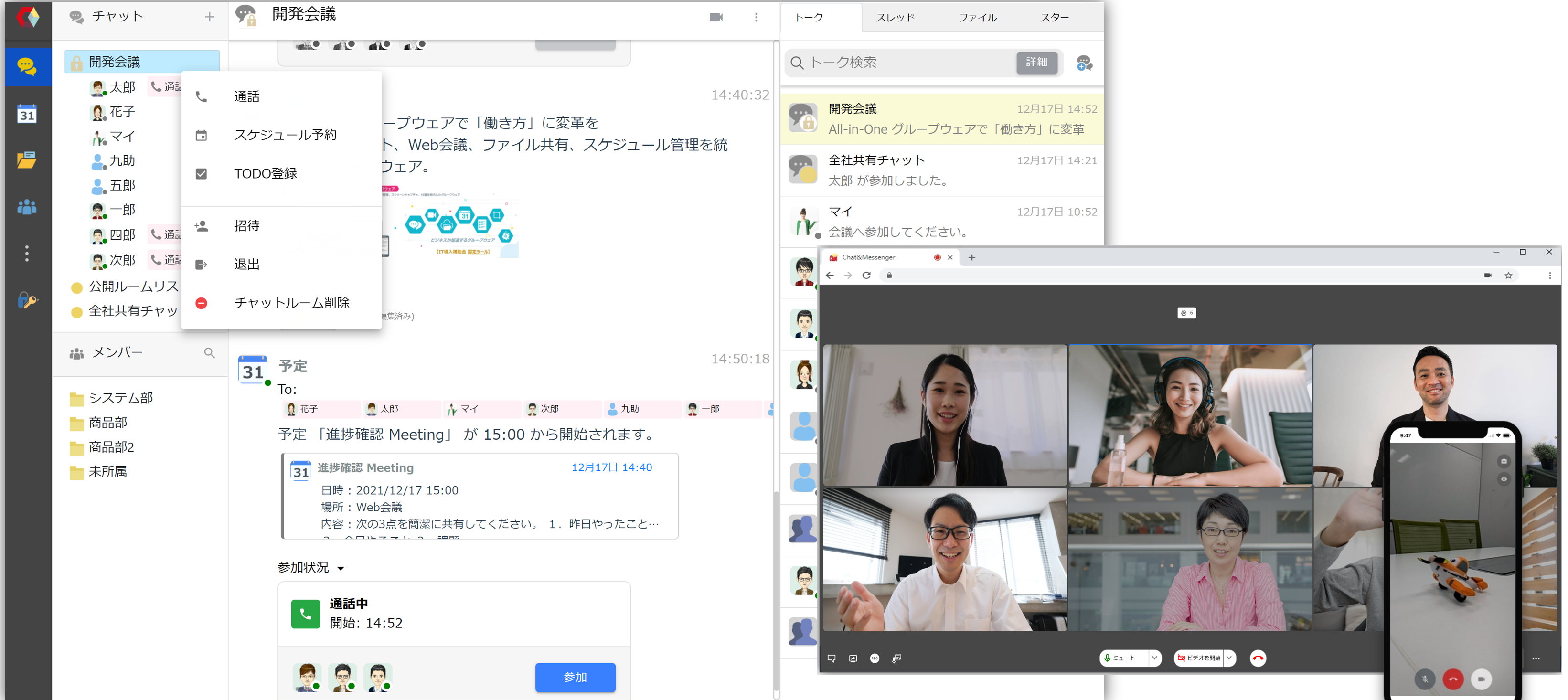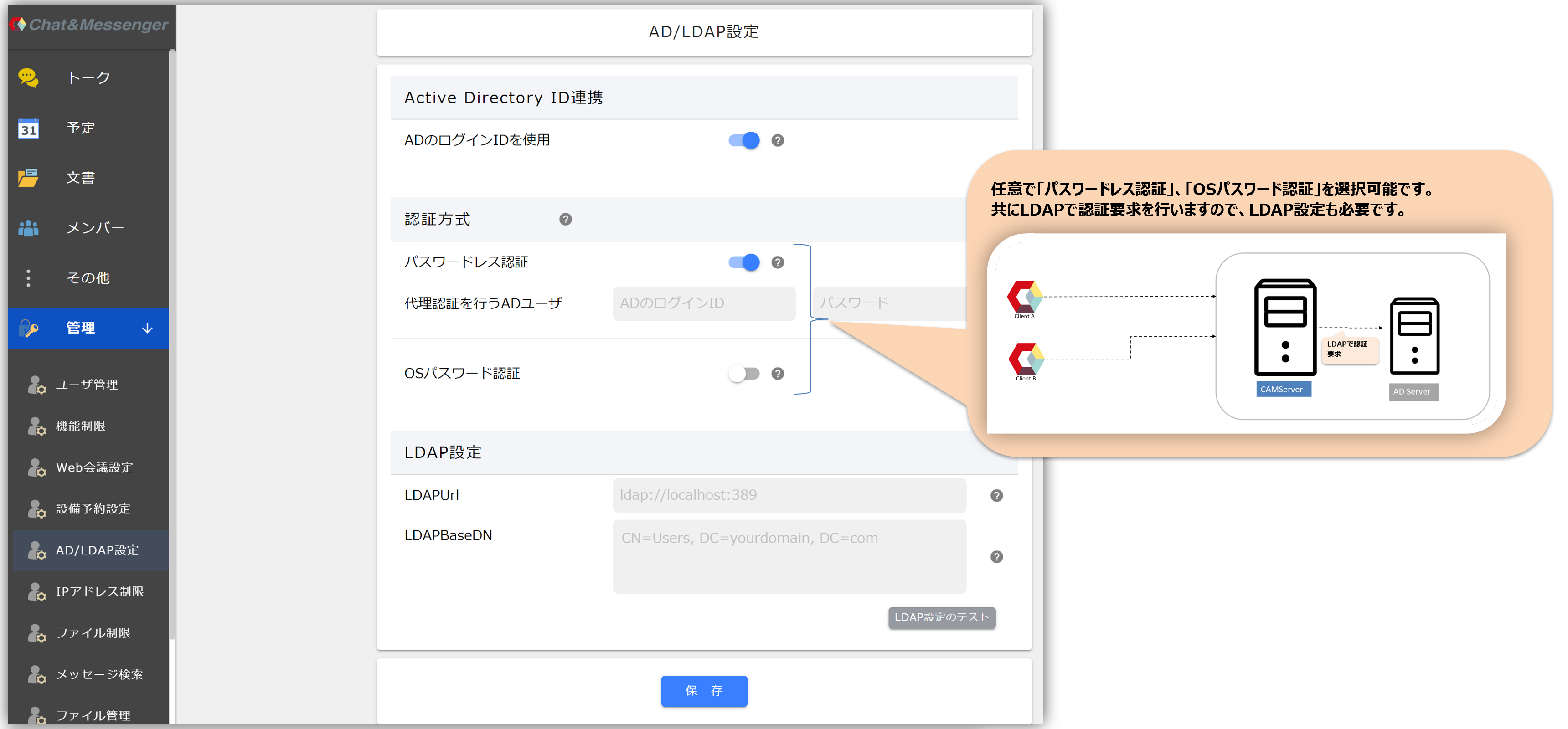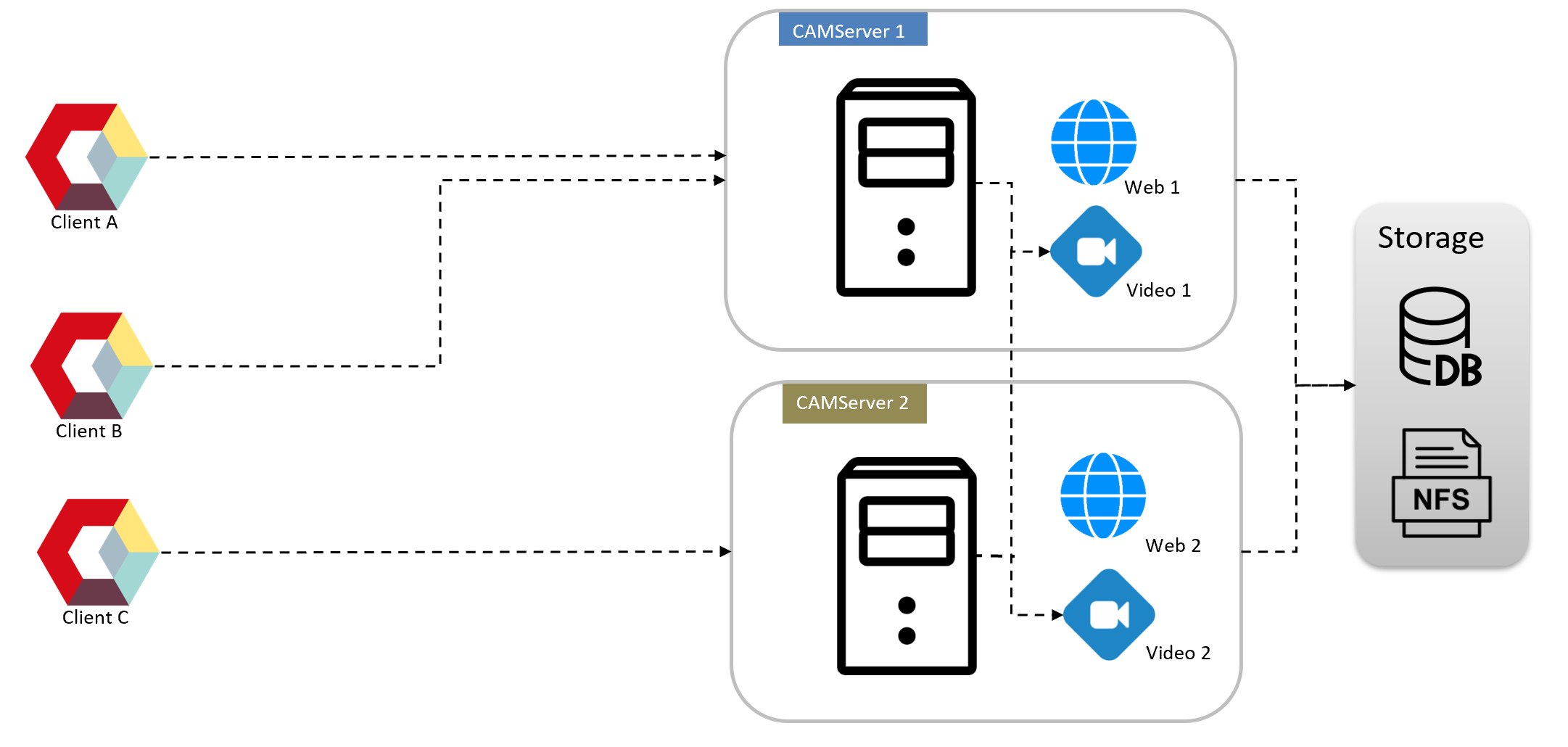 The on-premises version of Chat&Messenger is a paid plan, but compared to other companies, we offer high functionality and an overwhelmingly low price.