Business ChatWhile the use of "chat rooms" facilitates communication, chatting all the information back and forth may cause important information to drift away.
File sharing and document management functions make it easy to share internal knowledge (know-how) documents, use file sharing, and stock flowing information within the team.
The following is a functional overview.
Document management and file sharing


Document management and file sharing with an easy-to-use interface
Can be used as a bulletin board or electronic circular
Registered documents are hierarchically organized by folder, and viewing can be controlled by group or user (passwords can also be set).

The search is tremendous.


Instant retrieval of target documents from the document database
Incremental search for fast and light searching, search by star, page breaks by month or year
Search within Office files such as Excel, Word, PDF, PowerPoint, etc.
If you cannot find the desired document immediately, there is no point in sharing documents and files. What about your current groupware?

Easy document registration with template registration and copy function


By registering a template, you can set the initial values for new documents posted directly under the folder.
It is useful to register document formatting, publication settings, password settings, etc.
New submissions can be made by copying from a previously submitted document.
There are no default settings. As shown below, checking the "View" menu => "Document Management" will open the Document Management tab to receive document data.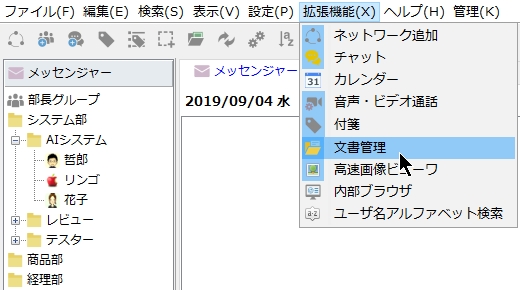 Point:
If "View" menu => "Document Management" is not checked, document data will not be received automatically and you will not receive a balloon notification about new information.
Document Submission
About Folders
Folder names are organized in a tree on the Document Management tab in the left pane. If you wish to create sub-folders, please separate folder names with a single-byte slash /.
The order of the tree in the Document Management tab in the left pane is by folder name and by document modification date.
See below for an explanation of the tree icons.

There is no operation to create folders only. Always use the document's folder settings, which will automatically create the specified folders and configure the tree. If for some reason you want to create only folders first, you can create a template for the folders.
Documentation to record confirmation
If you check the "Record Confirmation" checkbox, you can record the viewer's confirmation comments.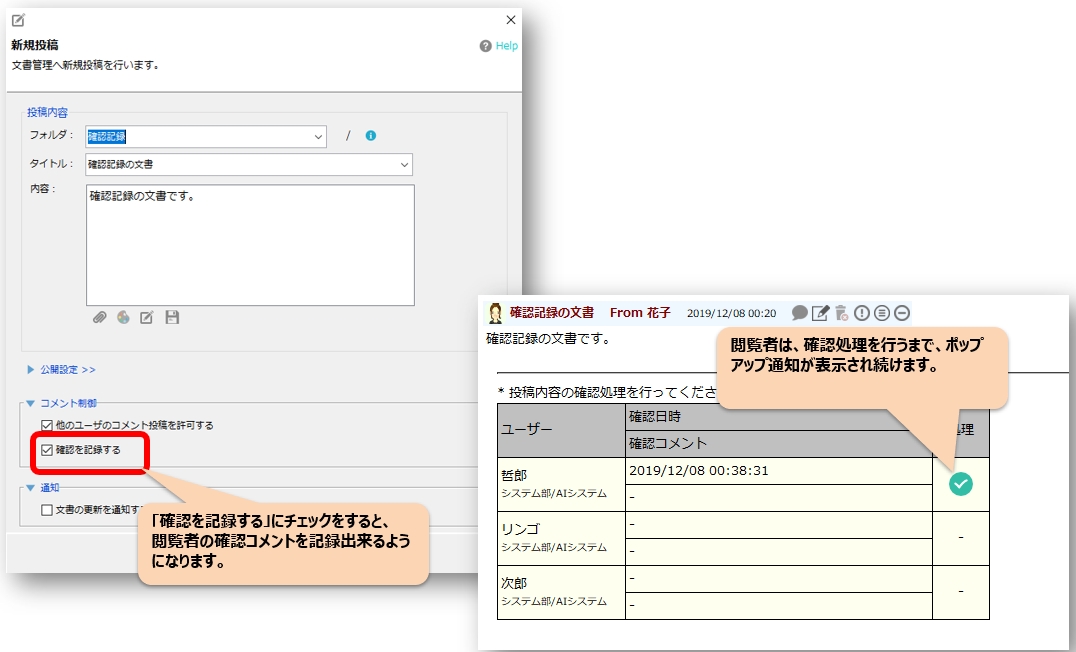 Point:
Once you post a document that records a confirmation, the viewer will continue to see a pop-up notification until the confirmation process is complete.
Public settings and password settings
Access rights can be set in the public settings to control viewing by groups and users. Also, passwords can be set to increase security.
On-premise version (LAN) Customized
Set passwords on the CAMServer for increased security operations.
Can be set to require a password when connecting to a CAMServer server.
To set, open the "Management" menu ⇒ "Client Usage Restrictions" on the CAMServer side, and select "Clients require password when connecting to CAMServer".
Please check and set a password of your choice.
If you set a password in CAMServer, you will be prompted for it the first time you connect to CAMServer.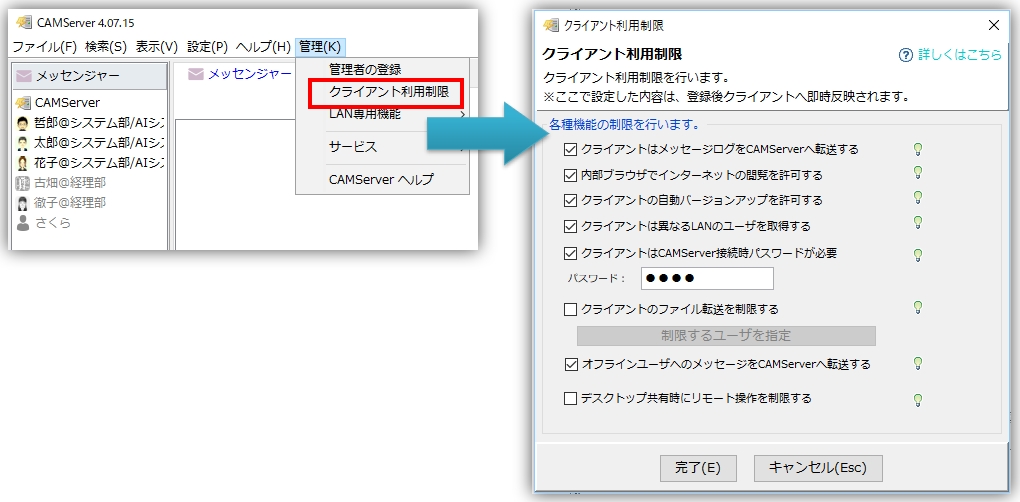 By default, documents are stored in CAMServer/config/DocShare, but can be optionally changed to RAID or other fault-tolerant storage.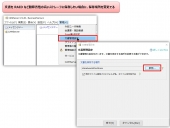 If the CAMServer PC is running on RAID or other fault-tolerant storage, this setting is not necessary.
If you already have document data, manually copy the CAMServer/config/DocShare folder to the change location before implementing the change.
If password authentication is required for network pass, access is enabled by registering Windows credentials in advance from the PC on the CAMServer side.
If CAMServer is running as a Windows service, it is necessary to specify the account under which the service is running in order to restrict access rights to the network path. Below is,control panel The name can be changed from