Groupware 3 Features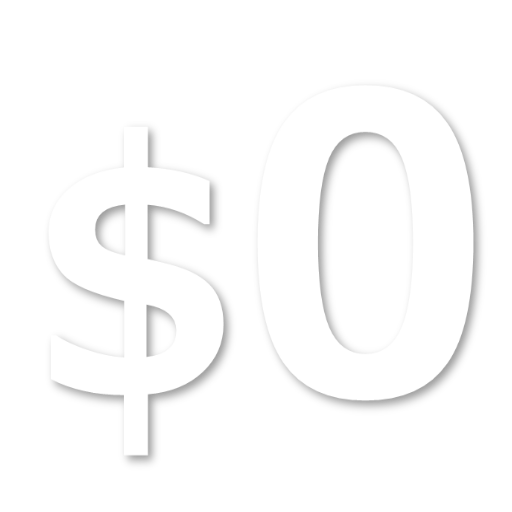 1. Basic functions are free
Integrate Business Chat, Video Conference, Document Management, Schedule, Capture, Sticky Notes.
It automatically recognizes LAN users immediately after installation, so no difficult setting at all.

2. Video call / Web conferencing
Web conferencing has high sound quality and high image quality. Easy to use with just a browser.
Web conferencing can be used cheaply. 3. On-premises / Cloud / Telework
Supports Windows/Mac/Android/iOS.
Depending on the policy of each team, Hybrid model that can be used for LAN or Cloud&Mobile.
Business Chat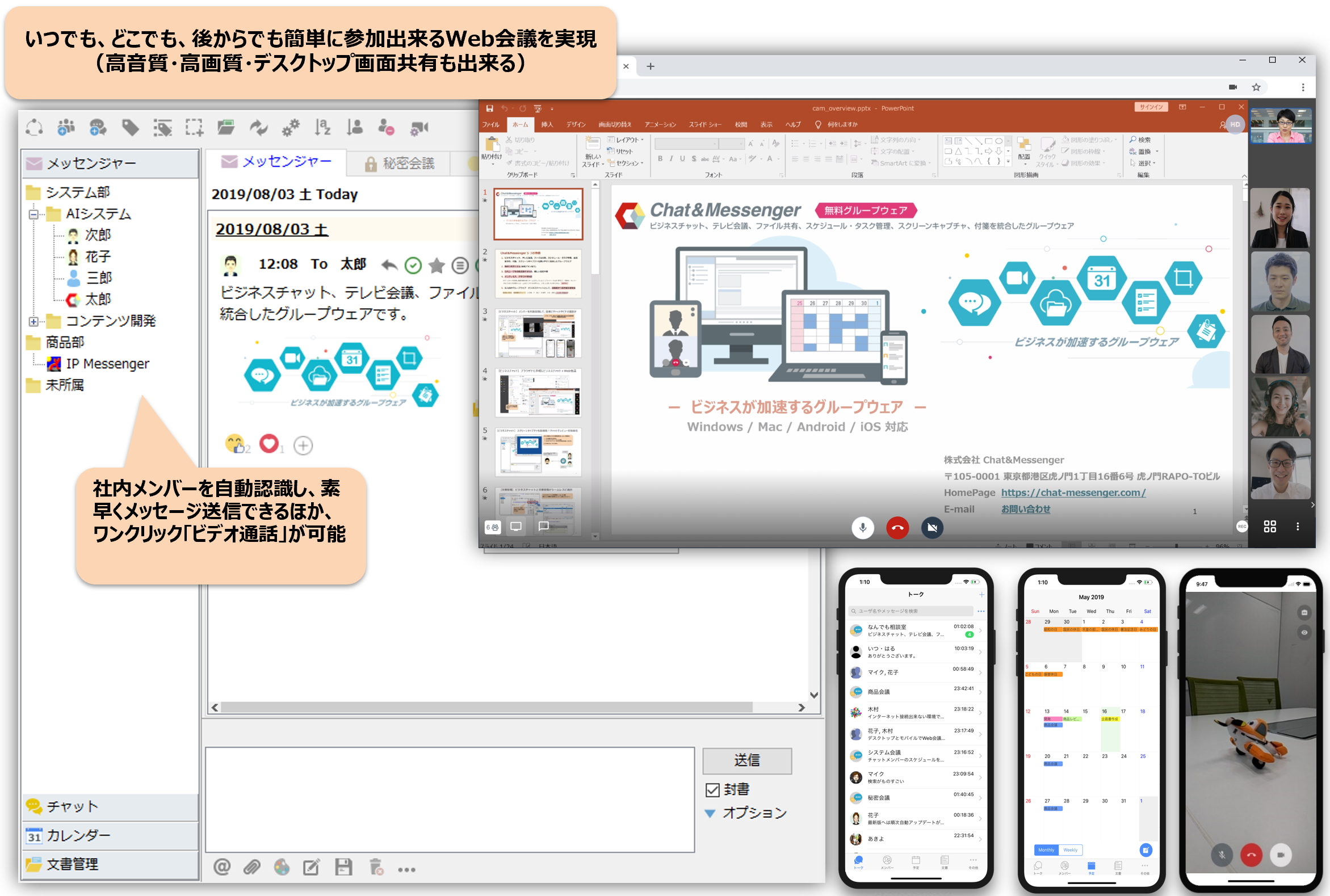 All-in-One Business Communication
Web conferencing, file sharing, schedule and task management, and facility reservations are easily integrated into business chat.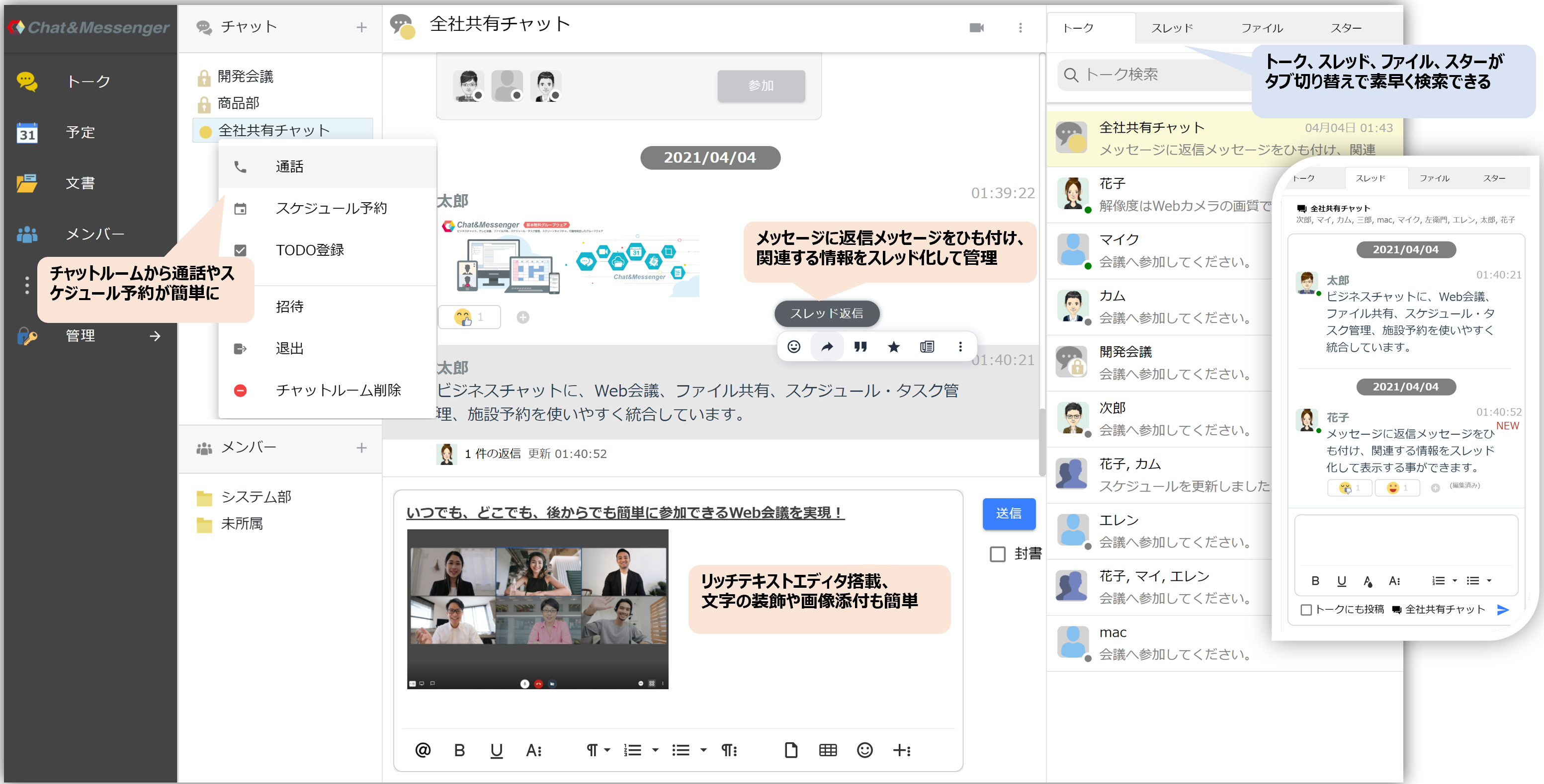 Easy business chat with a web browser
You can easily use Business Chat with a web browser. It has the same operability and performance as a Native application, and it works very comfortably.

Business chat + web conferencing on mobile
Mobile is compatible with Android / iOS. Web conferencing is VP9 compatible and has high image quality.
IP Messenger compatible
Automatically recognize users in LAN, and can send and receive encrypted messages. File and folder transfer is also OK.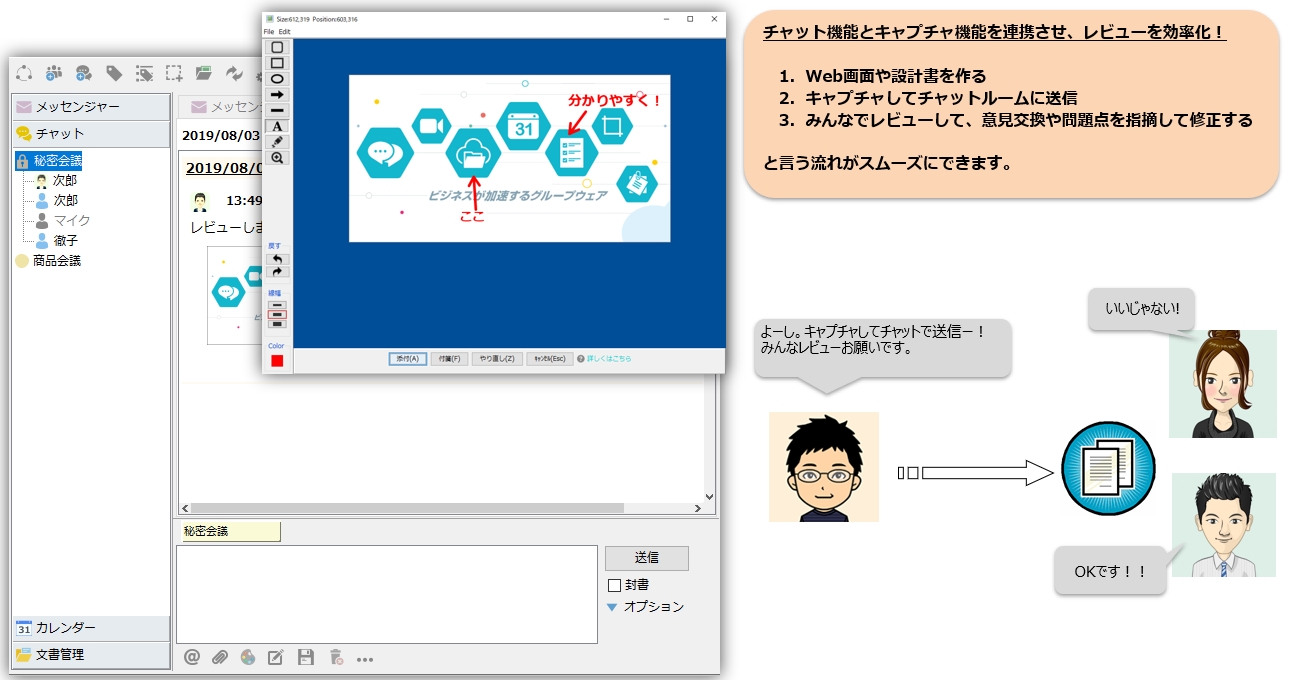 Screen capture and Efficient review
Screen capture, paint function on images can also be used.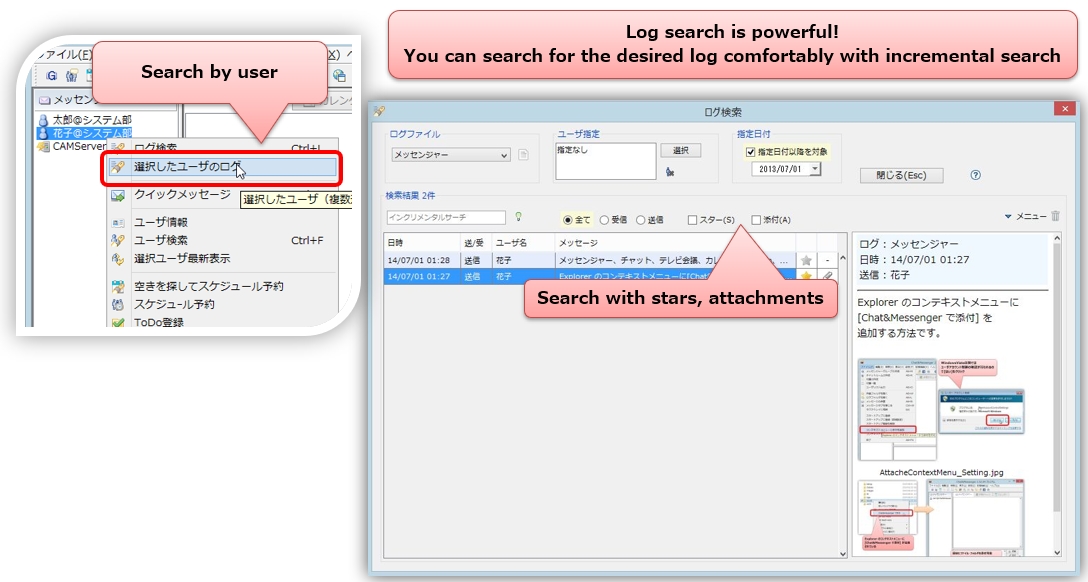 Log search is powerful
It is possible to search arbitrary text instantaneously from your past log with 1 million rows.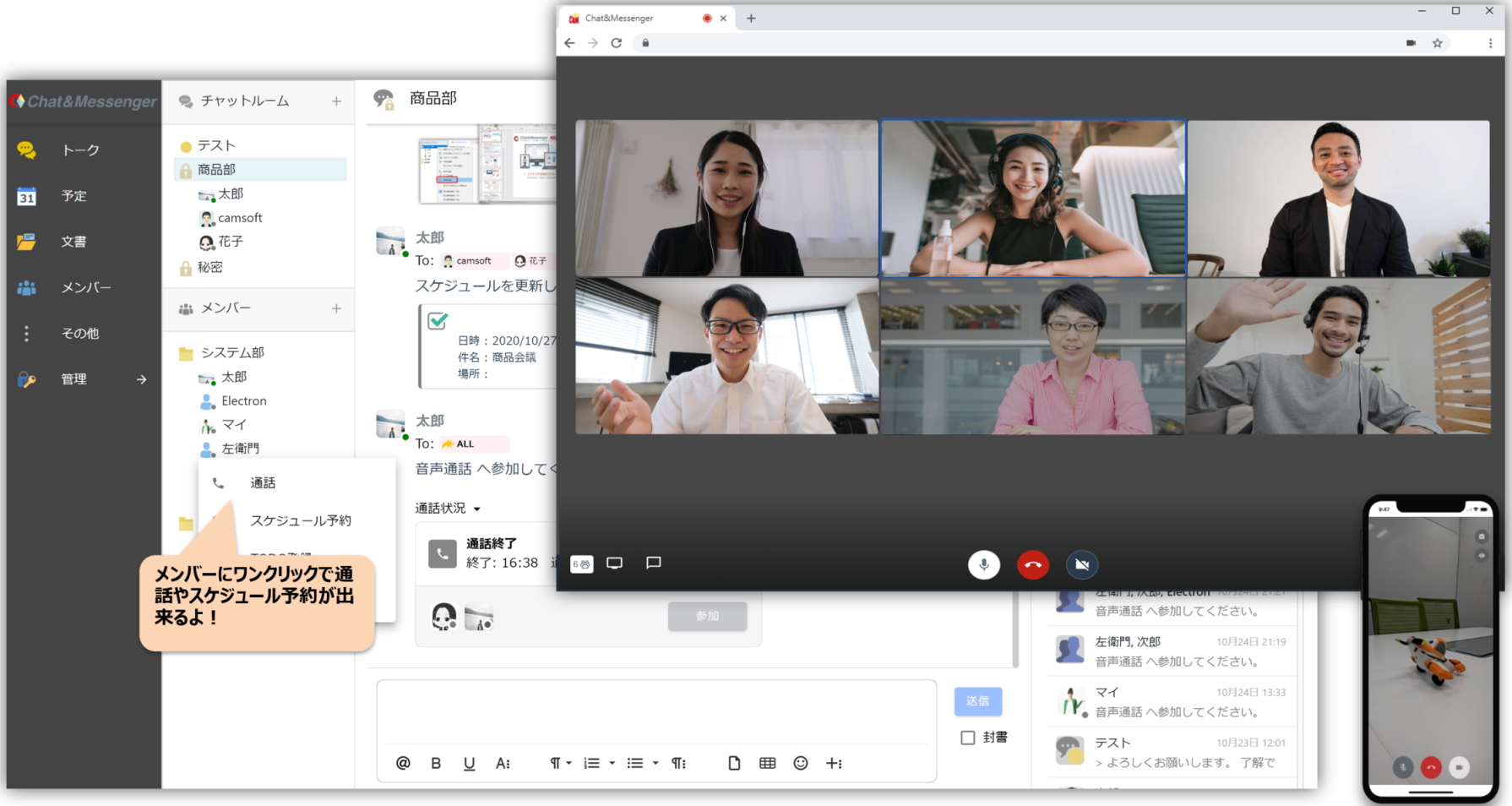 High-quality web conferencing
You can easily participate anytime, anywhere, even later. Using the camera of a smartphone, you can talk while projecting external images such as construction sites and warehouses.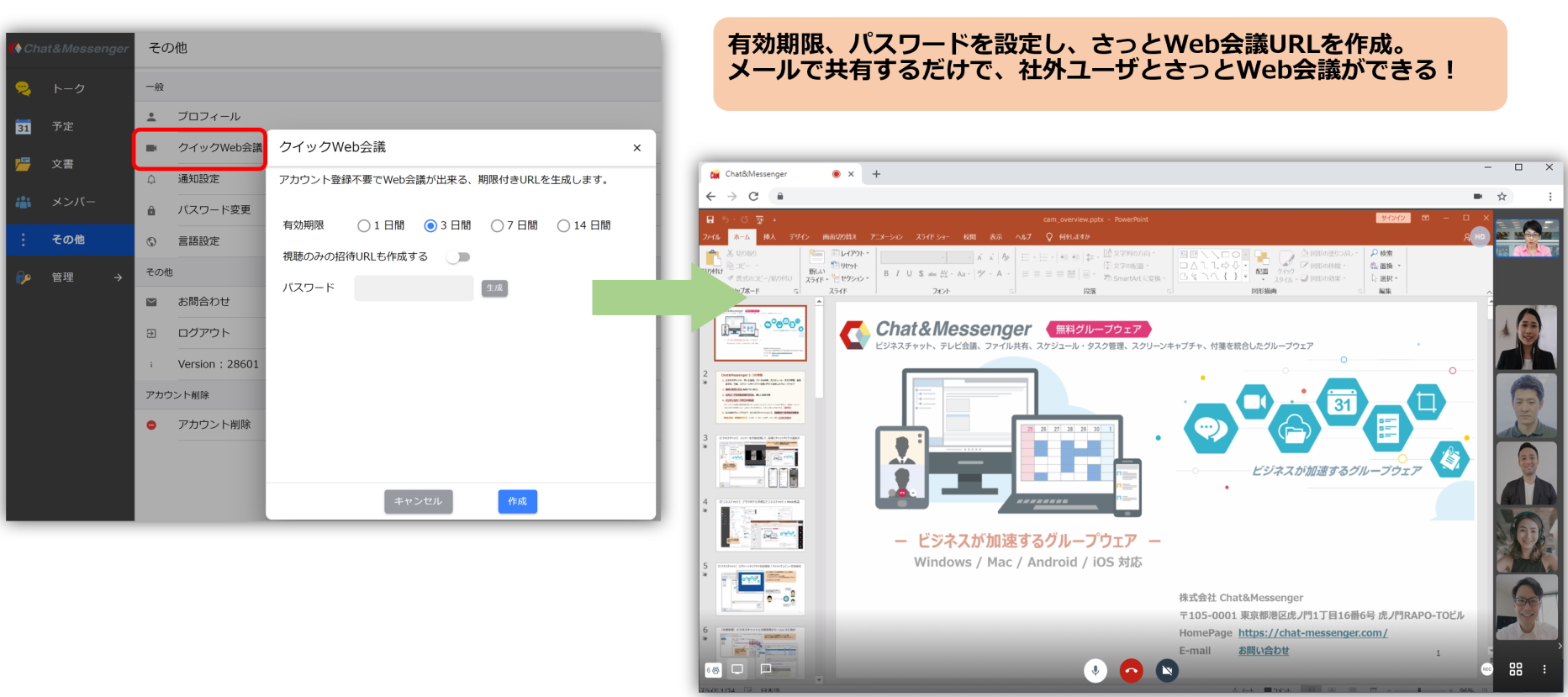 Sharing materials through online business negotiations
Ideal for document sharing and online business negotiations while looking at the other party's face in a web conference. Desktop screen sharing is possible with just a browser.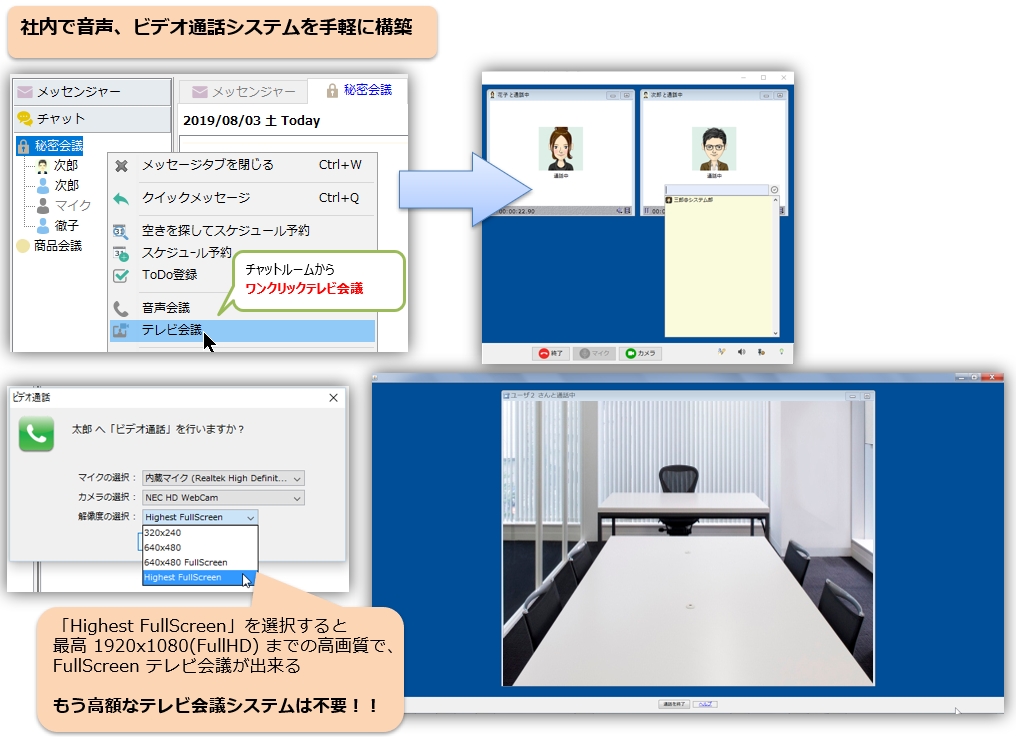 Video call within LAN (no server required)
For LAN, no server is required and video conferencing / video calling can be used. Since the client user is automatically recognized, there is no need for management work even when changing personnel or joining the company.
Document · File sharing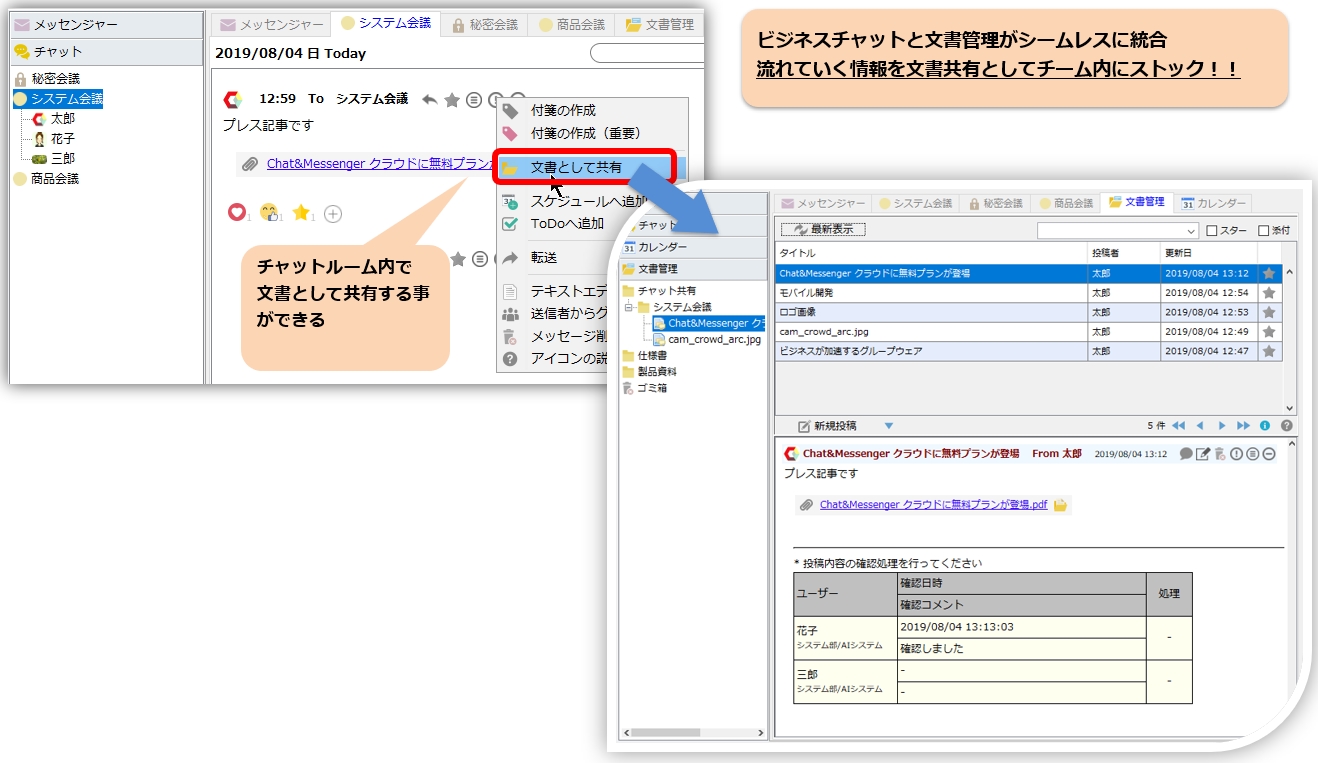 Document Management / File sharing system
A high-function document / file sharing system allows you to share in-house knowledge documents.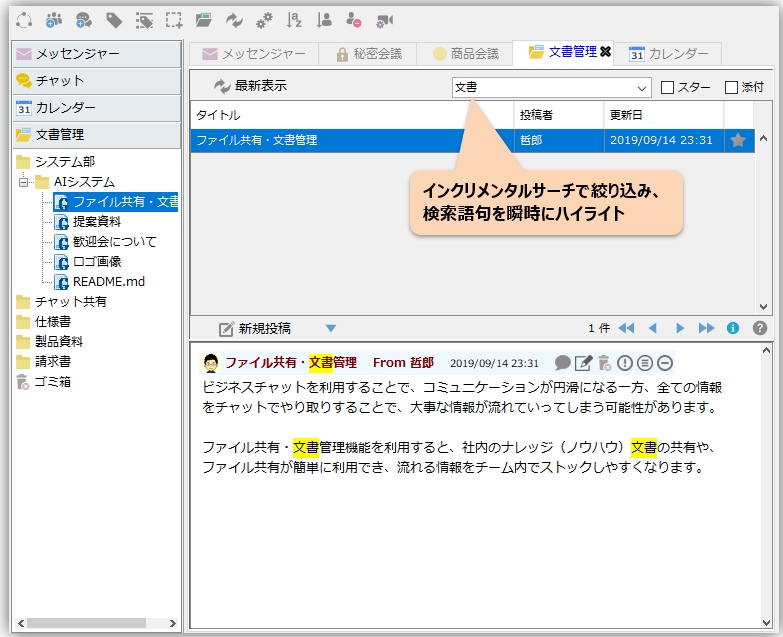 Search is tremendous
It can search fast and lightly with incremental search. If you can not find the target document immediately, there is no meaning that the document is shared.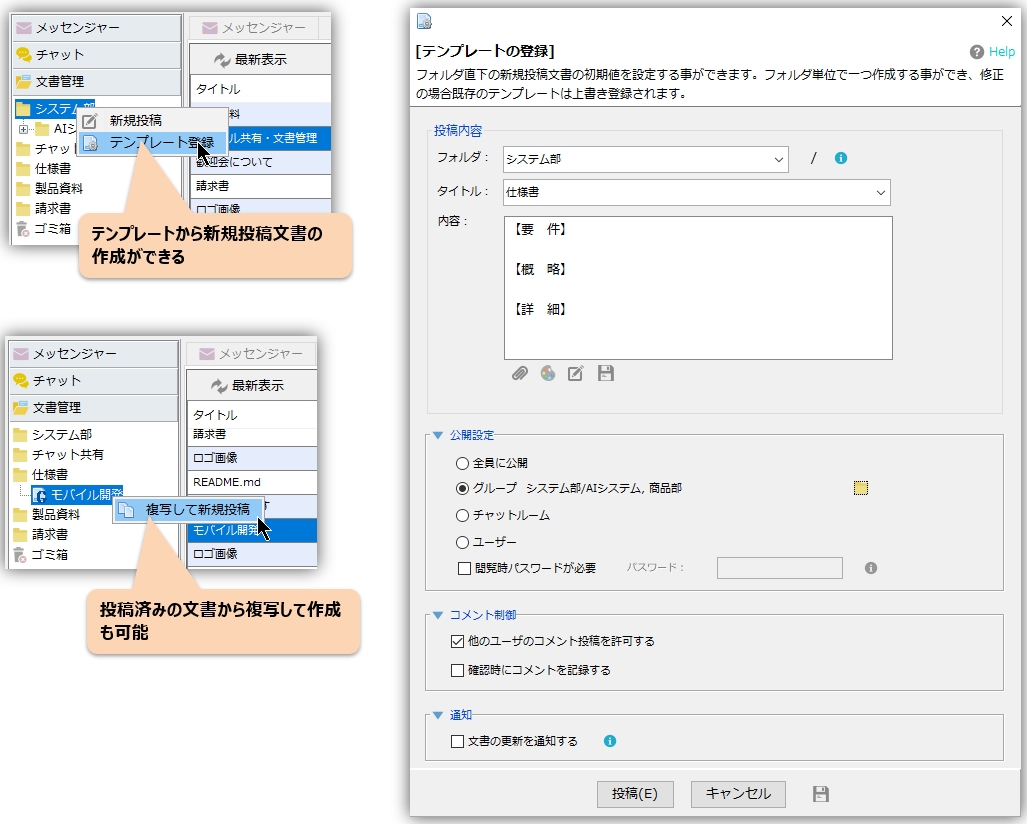 Template registration and copying function
You can create new posted documents from templates or copy from posted documents .
Calendar · Schedule · Conference room reservation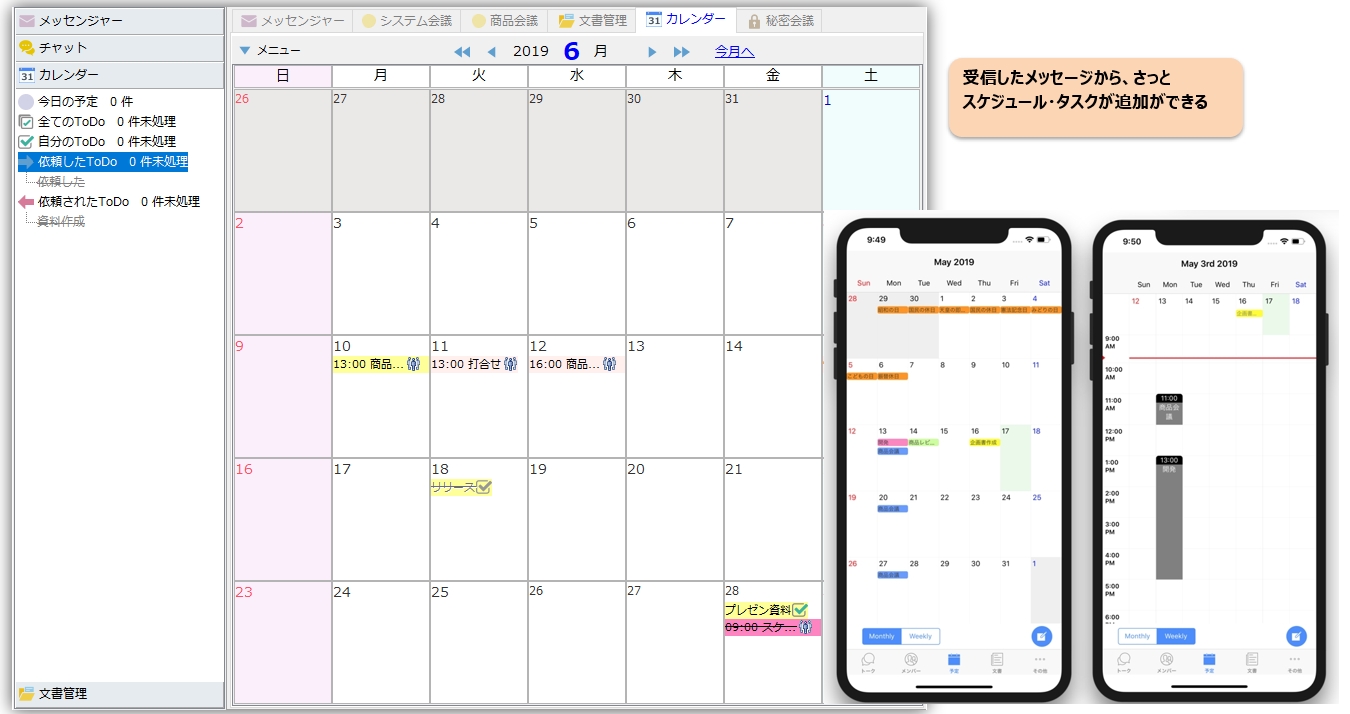 Calendar
It is possible to schedule and TODO registration quickly from the received.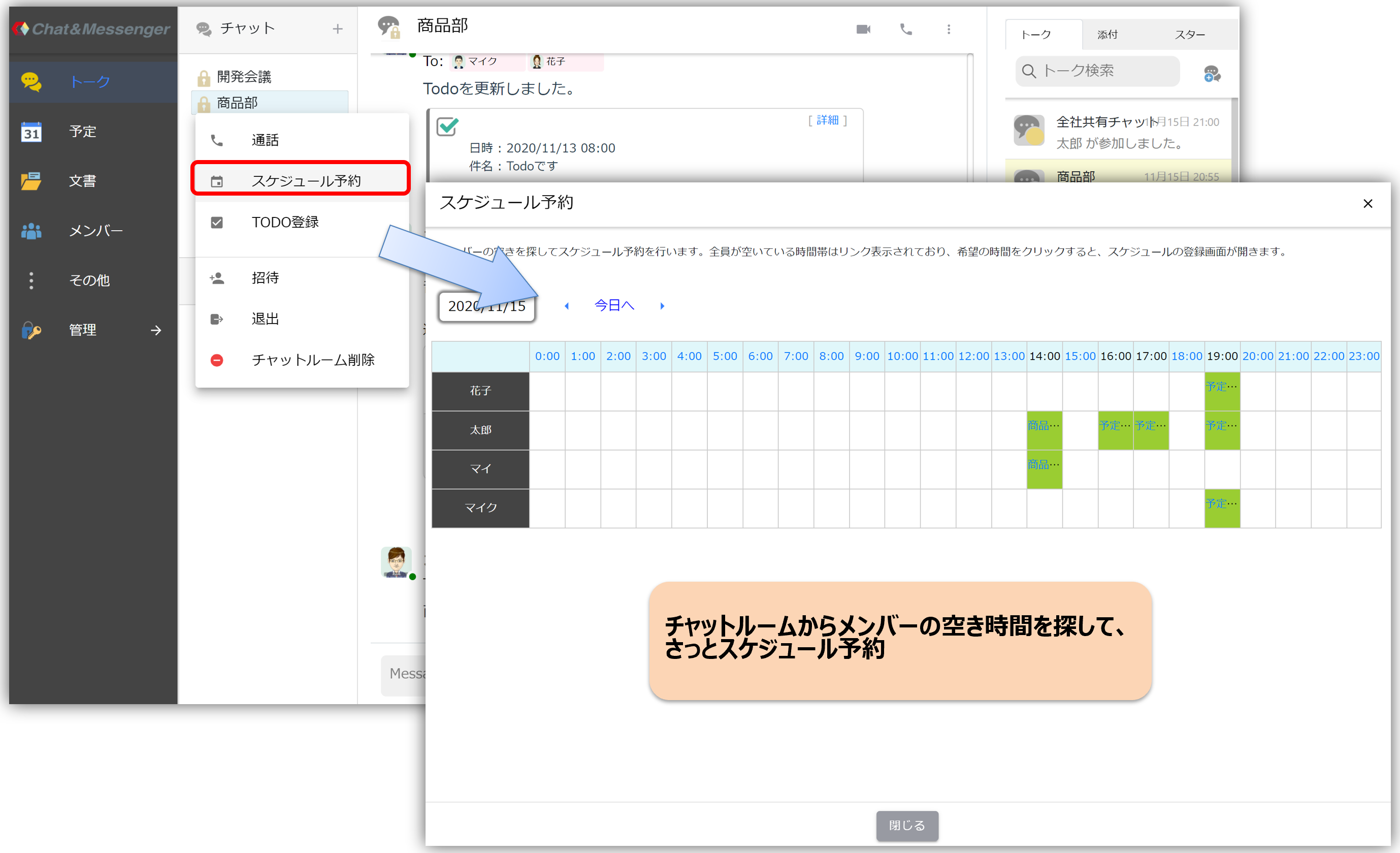 Business chat and schedule
You can quickly find a member's free time from the chat room and make a schedule reservation.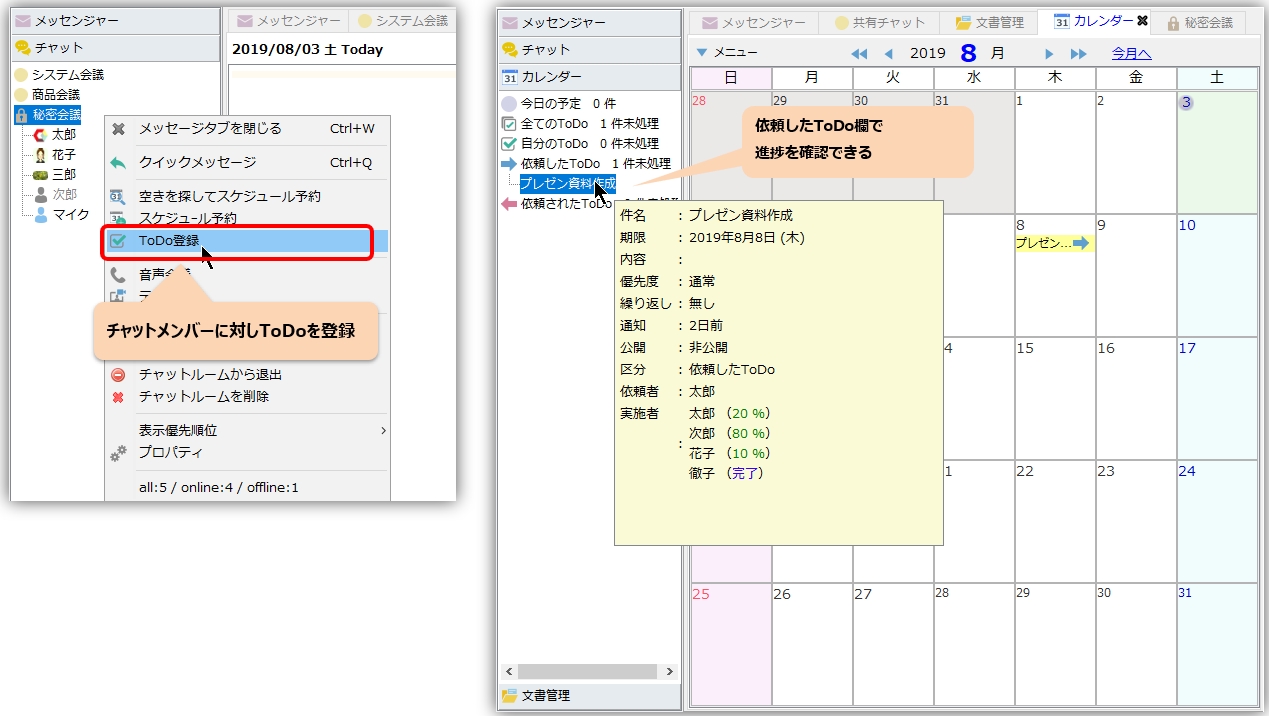 ToDo management
ToDo request to members quickly and manage the progress.
Mobile / Telework support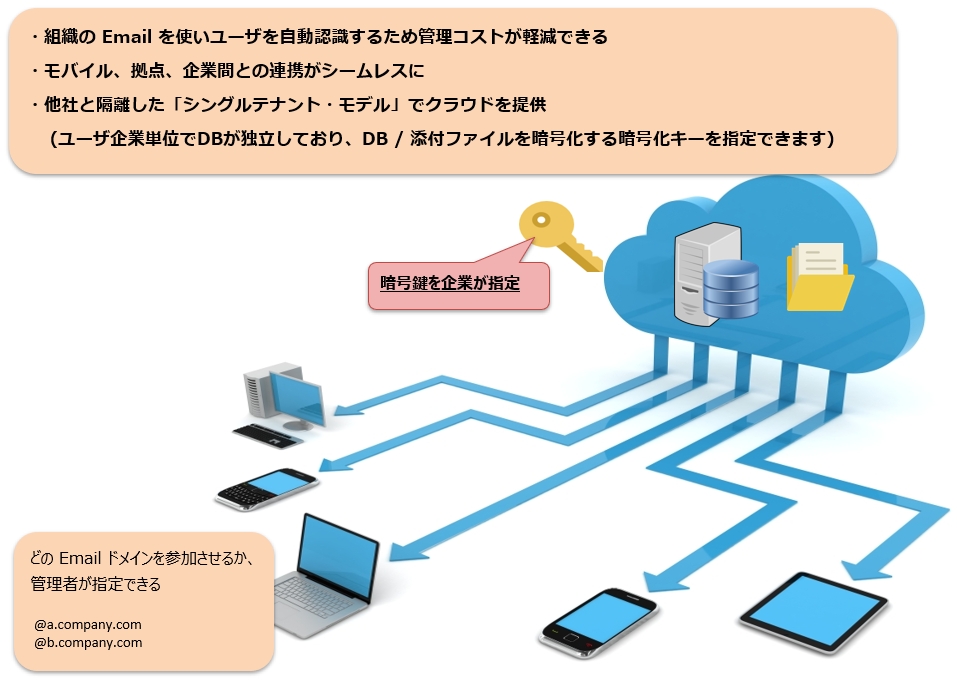 By using the Chat&Messenger cloud service, users can be automatically recognized on an email domain basis. Also synchronize with your mobile device (Android / iOS).
Mobile synchronization and remote office support
Reduce the cost of VPN connection and securely connect between sites
System design focusing on security for enterprises
All users become Business Premium Edition
On-premise CAMServer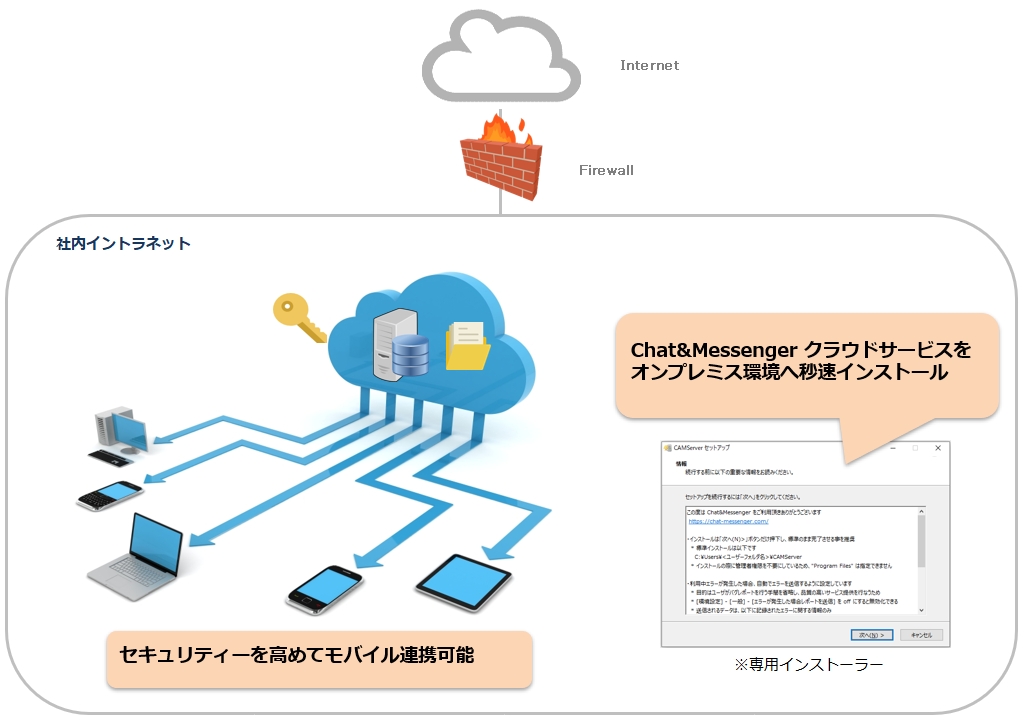 By arranging CAMServer with management function on a vacant PC, it is possible to construct full-fledged groupware securely within the company intranet.
CAMServer is installed in the same sense as Chat&Messenger, it is characterized by designing it so that 100 - 200 users can handle it sufficiently. You do not need any IT skills (Web server, DB server etc) required for server construction.
Recognize users in LAN different segments
Easy to build video conference and extension call system
Message transfer to offline users
Share schedule
Meeting room / facility reservation
High-function document / file sharing system
Email transfer to smartphone terminal
Centralized management of message logs
All users become Business Premium Edition