About Web Conferencing and Video Calling
Chat&Messenger is easy to use video call, ,Web Conference, ,Desktop Screen Sharing is available.
The feature of this system is that it can be established quickly and cost-effectively when a simple meeting can be held via web conference to save on transportation costs, or when real-time images of remote sites can be used to provide more detailed information about the situation there.
Use from Chat&Messenger desktop version without the need for a servervideo calland used in the browserWeb Conferenceand both are available within an on-premise environment.
| | | |
| --- | --- | --- |
| Web conferencing/mobile | Screen sharing via web conference | Video calls for LAN |
Important: The
Web conferencing offers better quality than videoconferencing and requires about half the network bandwidth. For new installations, video calls are deprecated in favor of web conferencing.
The maximum number of connections is approximately 4 for video calls and 100 for web conferencing.
For on-premise web conferencing,CAMServer The introduction of a
Only web conferencing can be linked to mobile devices
Other differences are Video Calling, Web Conference Comparison reference
Usage Scenes
screen sharing
Desktop screens can be transmitted in real time. This can be used for presentations during meetings, help desks, etc.
Web Conferencing Screen Sharing

For LAN

The image quality for LAN is rough compared to that of Web conferencing.
Also used as a web seminar function
Web Seminar" is a function for holding seminars online. By delivering seminars online, the cost of renting a venue, travel expenses for participants (transportation costs), and time required for preparation can be significantly reduced.
No account registration is required on the other end, and URLs can be easily issued for viewing only, enabling web conferencing with a large number of participants while reducing communication volume. Of course, participation is also possible from smartphones.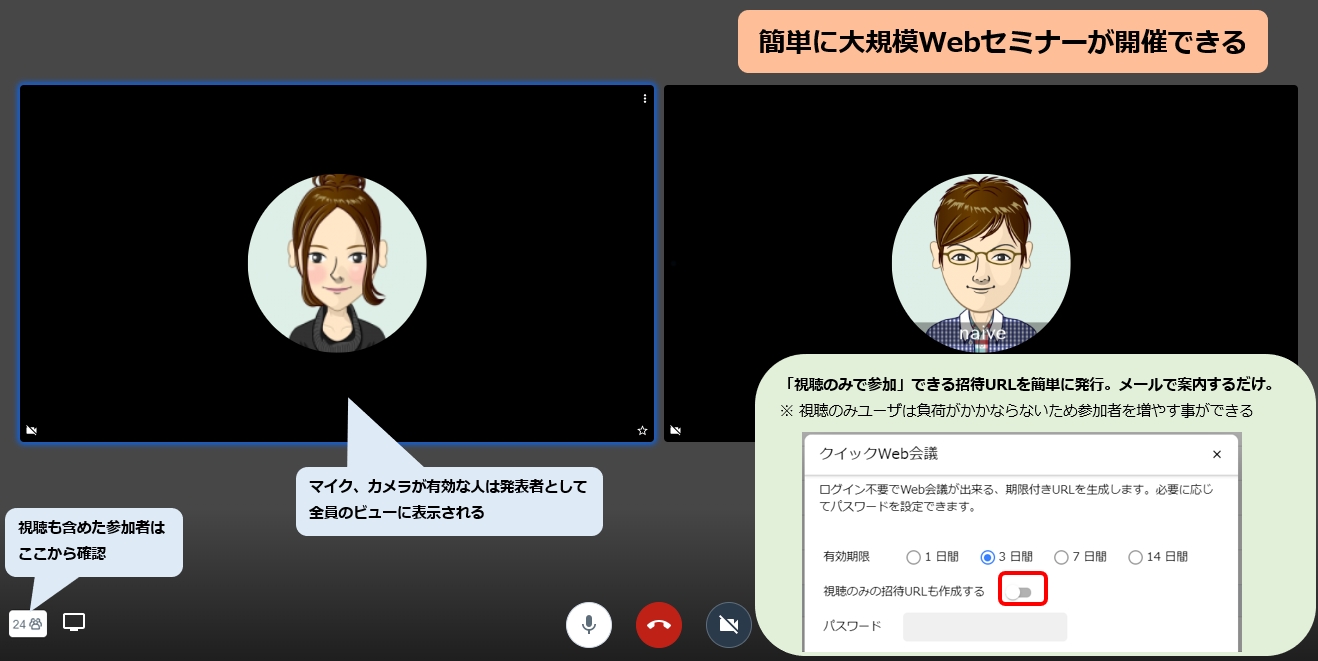 Web conferencing improves visual clarity by activating the camera and microphone only for the person presenting, while at the same time significantly lowering the amount of traffic.
Videoconferencing for LAN
Easy to set up a videoconferencing system without the need for a server.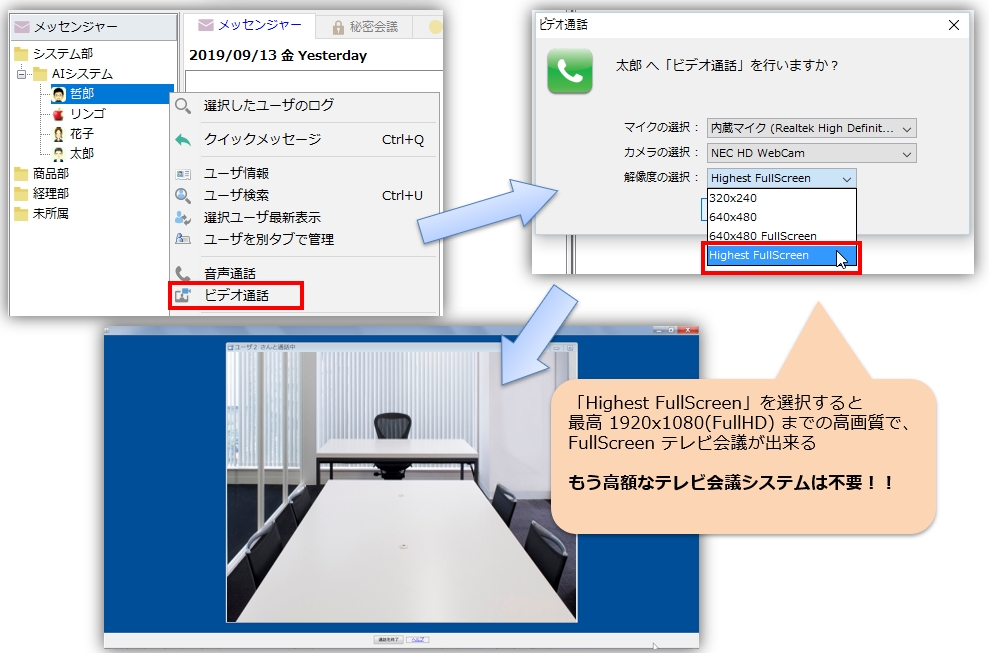 Installation Requirements
On-premise version (video call for LAN) Installation requirements:
To use this function between locations,VPN / IP-VPN already in progress due toCan the PCs at each site communicate with each other over the IP network?Please check.
By using the "external user acquisition function" of CAMServer, network users between locations can be easily recognized.
On-premise version (web conferencing) Installation requirements:
CAMServer and the base PC can be connected.
* There is no need for communication between PCs at the base over the IP network.
Port to be used:
Approximate maximum number of simultaneous connections
Approximate maximum number of simultaneous connections Please refer to
Video Calling, Web Conference Comparison
video call
Web Conference
video codec
VP8
VP9

*Half the bit rate of VP8

access method
P2P connection to all users
2 users are P2P, 3 or more users are SFU
Relay servers such as CAMServer
Available without
Required
IP connection between terminals
Required
unnecessary
document sharing
weak
symbol used as a placeholder (either because a number of other words could be used in that position or because of censorship)

*Can be shared beautifully.

Web Conference Recording
×x-mark (used to indicate an incorrect answer in a test, etc.)
symbol used as a placeholder (either because a number of other words could be used in that position or because of censorship)
Smartphone support
×x-mark (used to indicate an incorrect answer in a test, etc.)
symbol used as a placeholder (either because a number of other words could be used in that position or because of censorship)
Quick Web Conference
×x-mark (used to indicate an incorrect answer in a test, etc.)
symbol used as a placeholder (either because a number of other words could be used in that position or because of censorship)
Maximum number of simultaneous connections
8 people with camera
Approximately 20 people for audio only
20 people with camera
Approximately 30 people for audio only
Our Focus
No major improvements will be made in the future.
Improve it as our focus feature