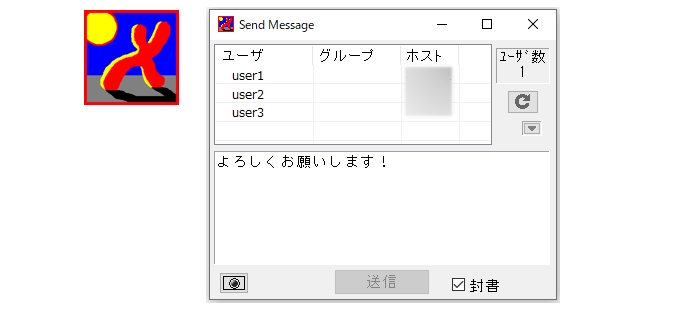 IP Messenger Overview
What is IP Messenger?
IP Messenger is a messenger software for LAN created by Keisho Hakusui.
This excellent software automatically recognizes members of the same network and easily allows clients to exchange information with each other in real time.
How IP Messenger works
IP Messenger sends broadcast packets to the LAN to search for other PCs running IP Messenger and automatically recognize users.
Broadcast packets generally reach the same department or floor within the company, so information can be easily exchanged with users within a department or project.
The same mechanism is utilized in many network systems, such as for the purpose of a smartphone or computer finding a wireless LAN router.
IP Messenger and Security
There are several Internet messenger software services available, but since each message is sent and received outside the company, it is necessary to understand the advantages and problems of using these services.
In particular, Internet messengers with file transfer functions must take into account the risk of information leaks, since files are transferred outside the company in a manner that is difficult for administrators to trace.
IP Messenger is a secure messenger for companies because communication is closed within the company (LAN), so there is no need to worry about information leakage to the outside or virus infection from the outside. If you are exchanging information only with members of your company, the LAN Messenger is recommended.
IP Messenger Download

IP Messenger siteDownload the installer ipmsg_installer.exe from the following link and install as follows
IP Messenger Usage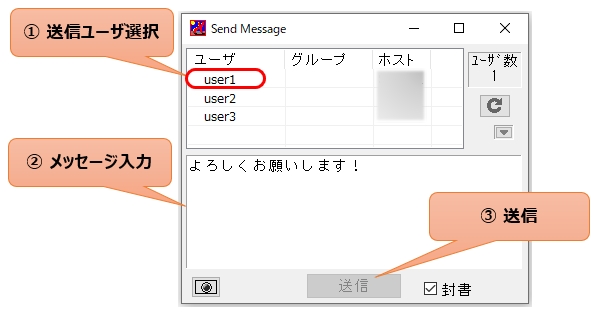 When IP Messenger is launched, it can automatically recognize users in the company LAN. Just select the automatically recognized user and send a quick message to start using the application.
*The range that can be automatically recognized is the reachable range of broadcast packets, and is generally the same department or floor. (Depends on network settings)
IP Messenger Compatibility Tool

Chat&Messenger is a free application, though,impsg protocol is implemented, making it compatible in message and file transfers.
It can also be used as "groupware" integrating business chat, video conferencing, file sharing, schedule and task management, meeting room reservation, screen capture, and sticky notes.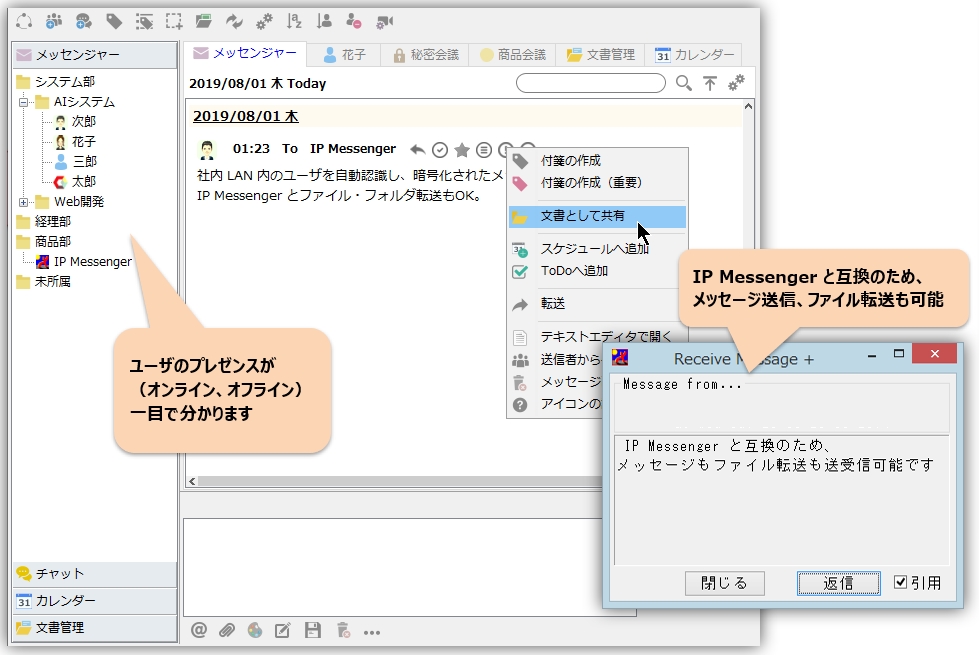 IP Messenger compatible business chat
Automatic recognition of users in the LAN, encrypted messages can be sent and received, and IP messenger and file/folder transfers are allowed.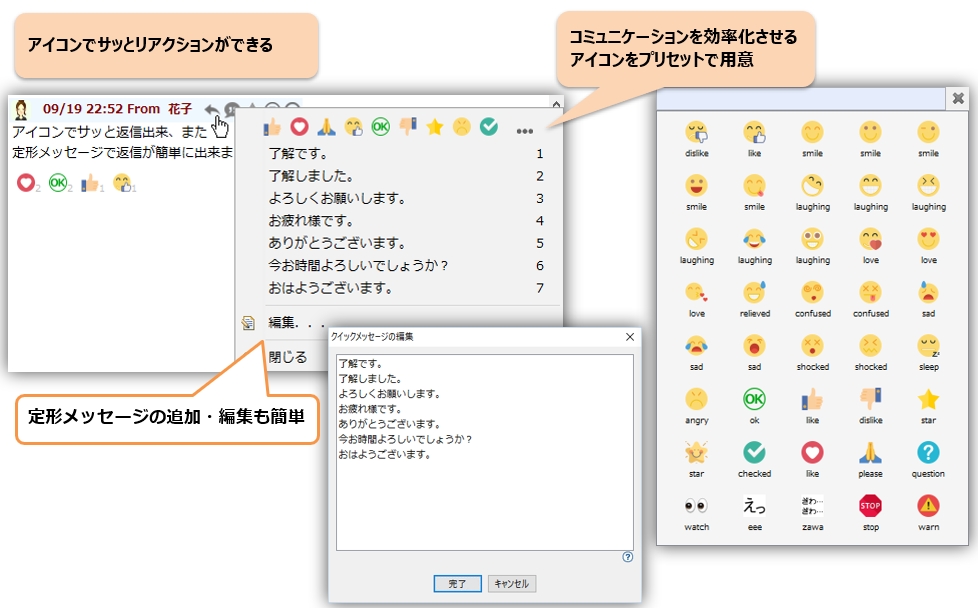 Reaction with icons
You can quickly reply to a message with an icon, or register your favorite messages and send them quickly. Unique features of business chat, not found in e-mail, activate communication.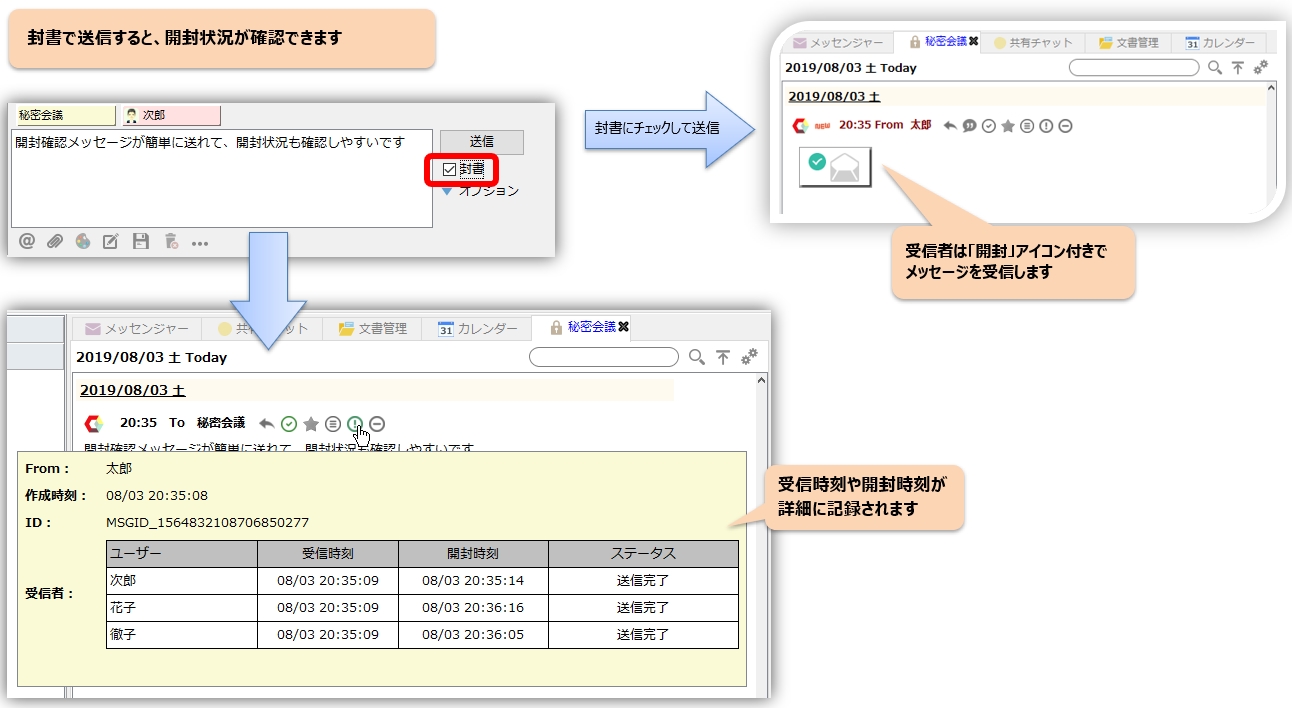 Convenient opening confirmation
Easy to send an opening confirmation message. Easy to check opening status!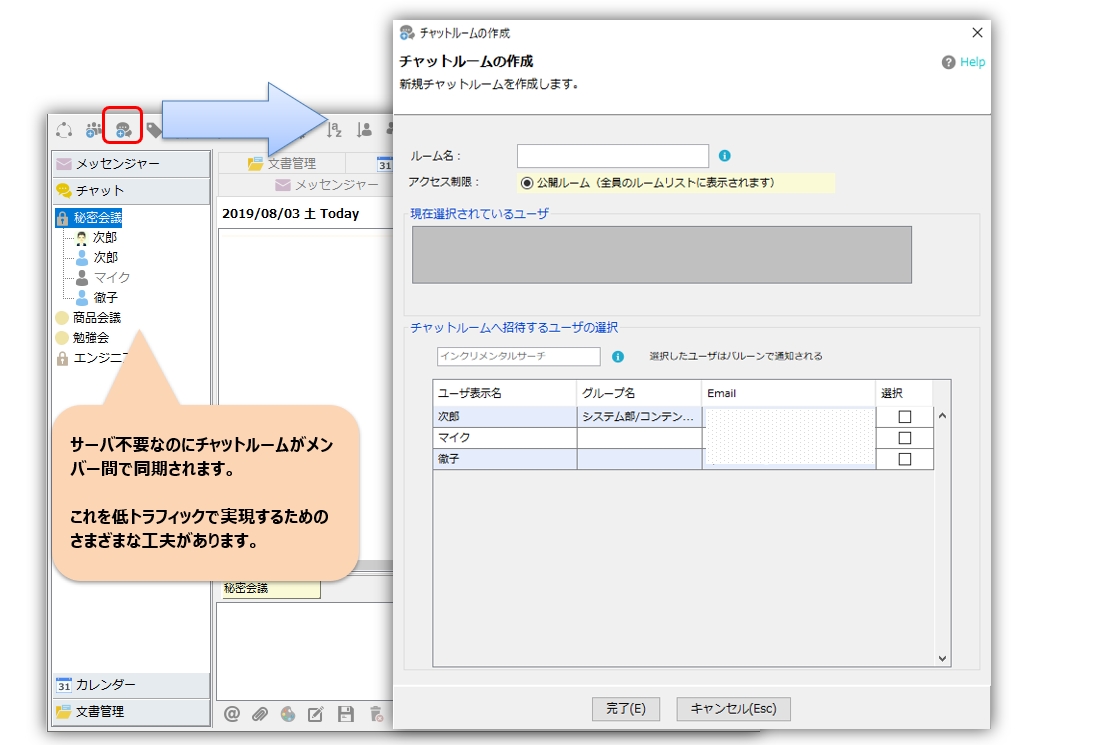 Reduce wasteful meetings by using internal chat.
Chat rooms can be freely created with public and private restrictions. Reduce wasteful meetings with business chat.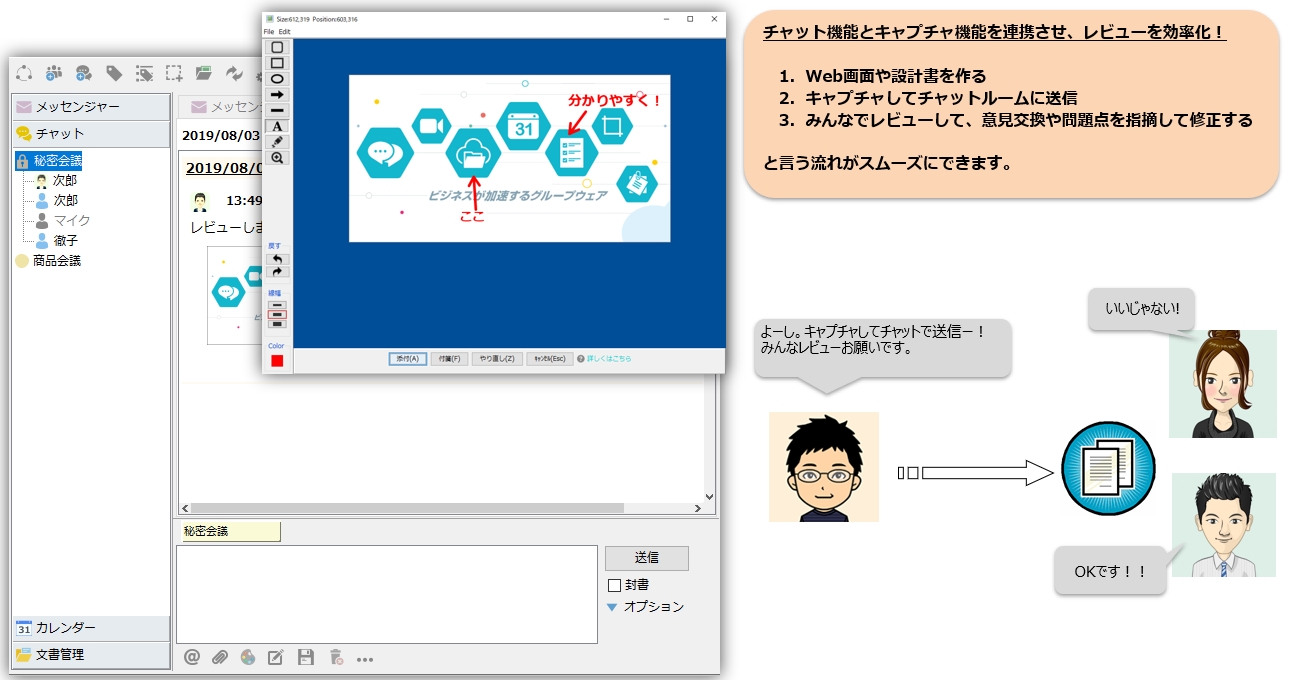 Screen capture and business chat work together
Screen capture and paint on image functions are available to streamline the review process.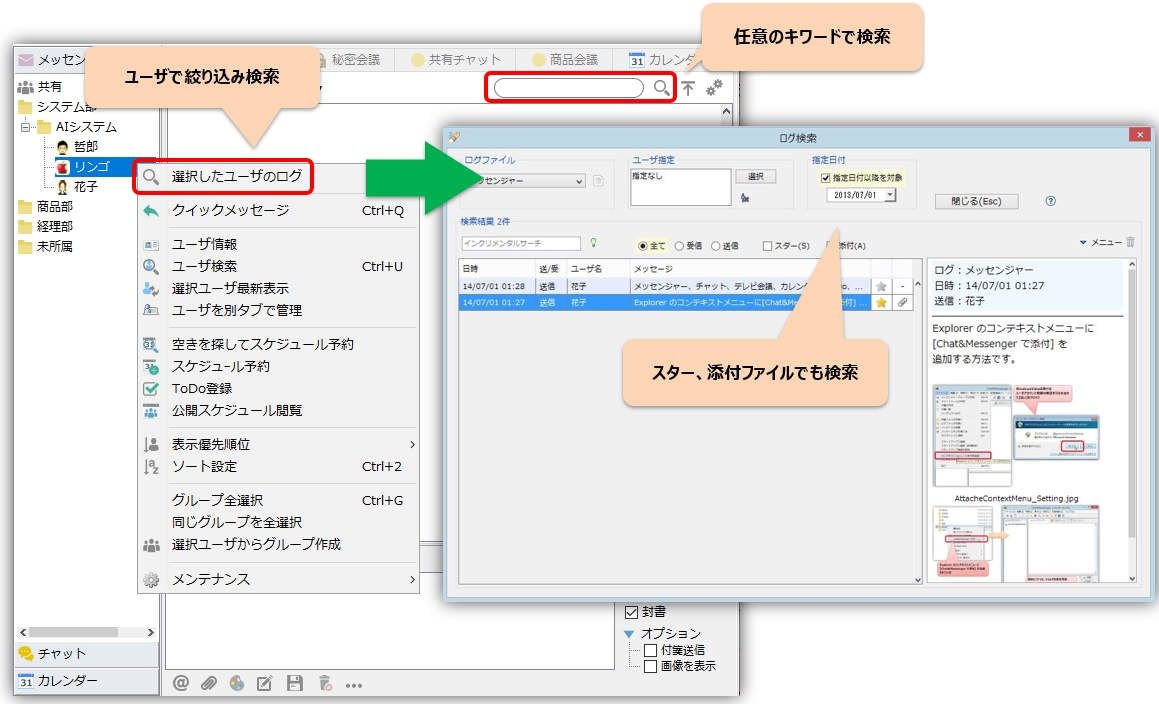 Powerful log search
It is possible to instantly search for any text from one million lines of logs, even IP Messenger style logs.
Mac OS Support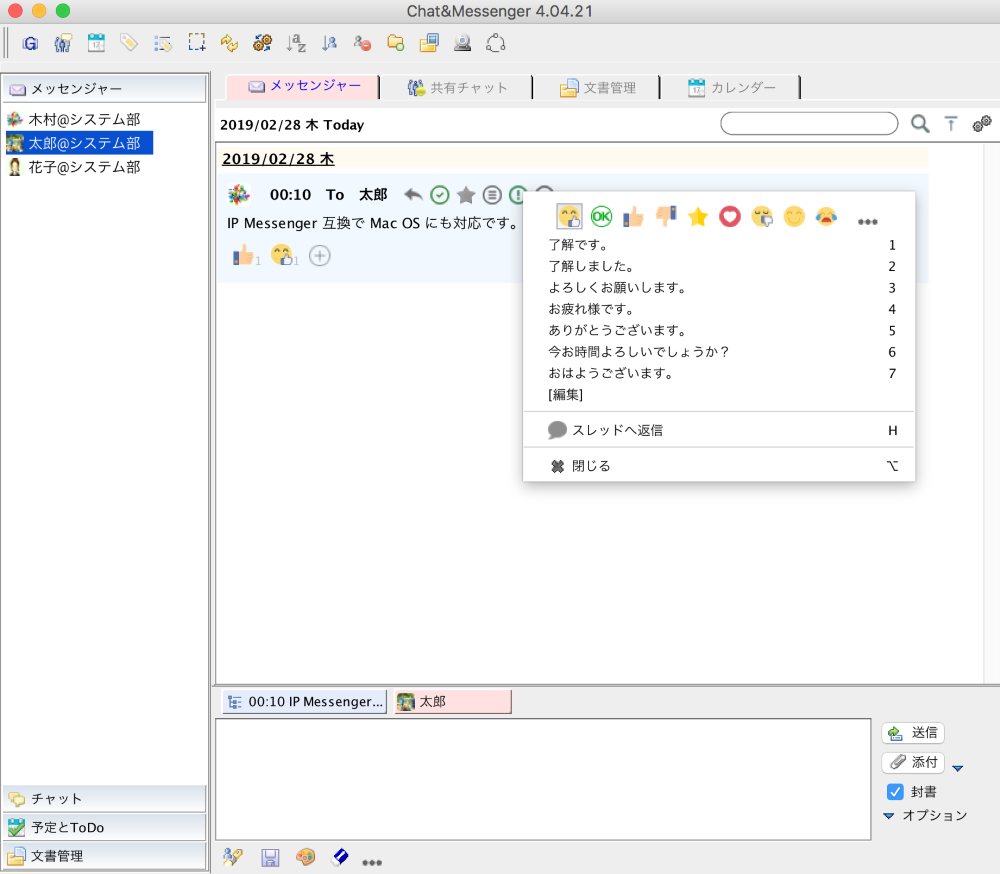 Compatible Features
Dynamic member recognition within the network
Notification when IP Messenger starts
Notification when IP Messenger ends
Sending and receiving with message encryption
Logging in IP Messenger format
Nickname Change Notification
Notification of absence mode
Automatic sending of absence messages when you are not at home
Folder & file sending and downloading
sending and receiving of sealed letters
Change port number to start
Broadcast settings for other than LocalNetwork
Support for IP Messenger Exchange Server
Sending and receiving captured images
Incompatible Features
locked transmission
Message encryption other than RSA(1024bit) + blowfish(128bit).
 *If communication is not encrypted, encryption "not supported" is indicated in the user details display.
Display of multicast sending user list
Expanded functionality
(Internet) chat
Voice and video conferencing
Desktop Screen Sharing
Schedule Sharing
Send and receive messages with font settings
Quick Message Function
Offline user management and transmission
Emoticons and canned text insertion function
Sending and Receiving Sticky Notes
Open Notification Status Management